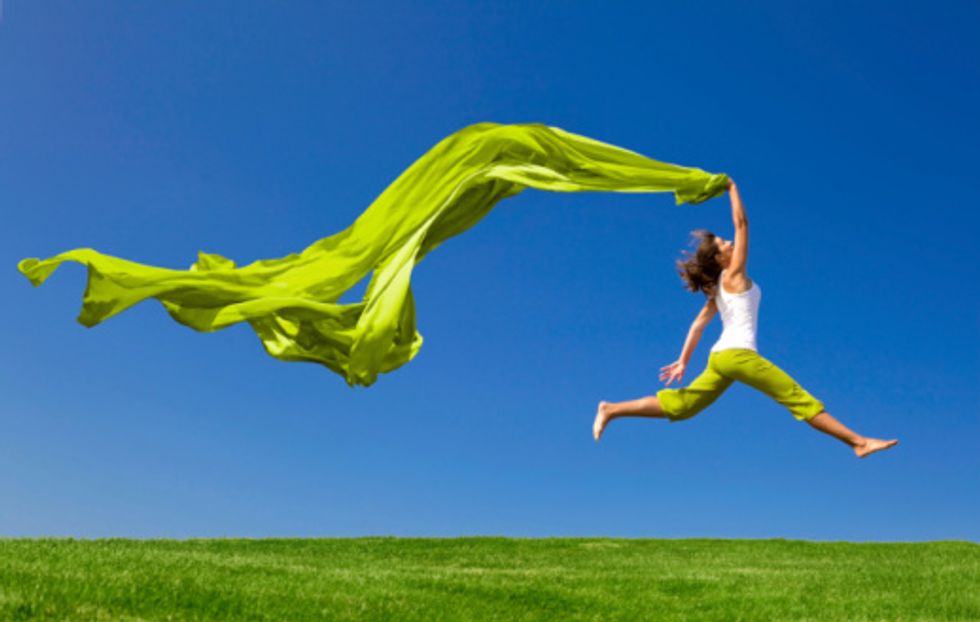 Do you feel it? I do, from time to time … that all-out sensation of gravity pulling my body downward to a place I don't want it to go. It's energy drain. I'm dealing with it today, and I'm assigning blame to the cloudy, rainy weather. I felt it yesterday at around 2 p.m., then realized I'd been so busy I hadn't eaten my lunch yet. Whatever the reason for that low-grade energy lapse, here are some helpful—and simple—solutions. (Alert: Read all the way through for a special giveaway "hidden" within this post!)
---
Drink Water. Pour yourself a tall cool glass of water. You might already know that sometimes we think we're hungry when the culprit is thirst. But thirst can cause fatigue, too. If water is not your thing, eat fruits or veggies high in water content—these include watermelon (my fave!), iceberg lettuce, tomatoes, zucchini, bell peppers and celery.
Get Up and Move. Sitting—aside from being really bad for your health—can make you so fatigued that you'll be fighting to keep from sliding off your chair. Get up and move—it's an instant energizer. Even five minutes can invigorate you. March in place, do some Rockette-style kicks, run up and down the stairs, grab a hula hoop, jump up and down—you get the idea.
Eat Complex Carbs. Carbohydrates provide your body with energy, especially your brain and nervous system. Avoid highly processed carbs, though, which provide very little nutrition. Instead, increase your consumption of complex carbs by reaching for whole-grain rice, breads and cereals, as well as legumes (beans, lentils, dried peas). Get your natural sugars from fruits and veggies rather than refined sugars.
Deal With Stress. Being anxious, worried or angry takes a lot of energy and can leave you feeling like you just ran a marathon or took a six-hour exam. Just as much—or more—energy goes into holding in those feelings. So, acknowledge them and move on. Easier said than done, I know. Read some great resiliency boosters here.
Meditate. Lots of studies have pointed to the fatigue-fighting benefits of meditation. Try a simple mini-meditation of about three minutes. It can restore your energy and can be done just about anywhere. For a quickie pick-me-up, close your eyes and begin to relax your body. If thoughts intrude, picture a relaxing scene—clouds floating in the sky or perhaps a beach at sunset. Breathe deeply and evenly.
Eat a Fruition Bar. PROBAR, a natural foods and snack company, just came out with this "superfood snack," its first certified gluten-free product. These 160-calorie, chewy, dense snacks are 100 percent vegan, organic and non-GMO. They're filled with healthy treats like dates, oats, chia seeds and cashews. The peach was my favorite, but you can't go wrong with the other flavors like cherry, lemon, blueberry, chocolate orange and cran-raspberry, either.
Enter a Giveaway. There's nothing more energizing than a little competition and hope. The PROBAR folks are generously offering my readers access to their new bars by giving away one box of mixed flavors (12 bars in all) to one lucky winner. But if you don't win, there's still hope: you can enter this code and get a 40 percent discount on the bars you order: just go to http://theprobar.com/shop and enter the code "BLOGGER" at checkout.

Here's the scoop: Make sure to comment. I'll select a name at random this Saturday, May 19, and notify you by 4 p.m. EST on Monday, May 21. You'll have 24 hours to respond (and I'm trusting you will!), otherwise a new name will be chosen. And good news: this giveaway is open to anyone, near and far. Good luck and happy snacking!

You might also want to read:
Going Gluten-Free
Meditation's Health Benefits