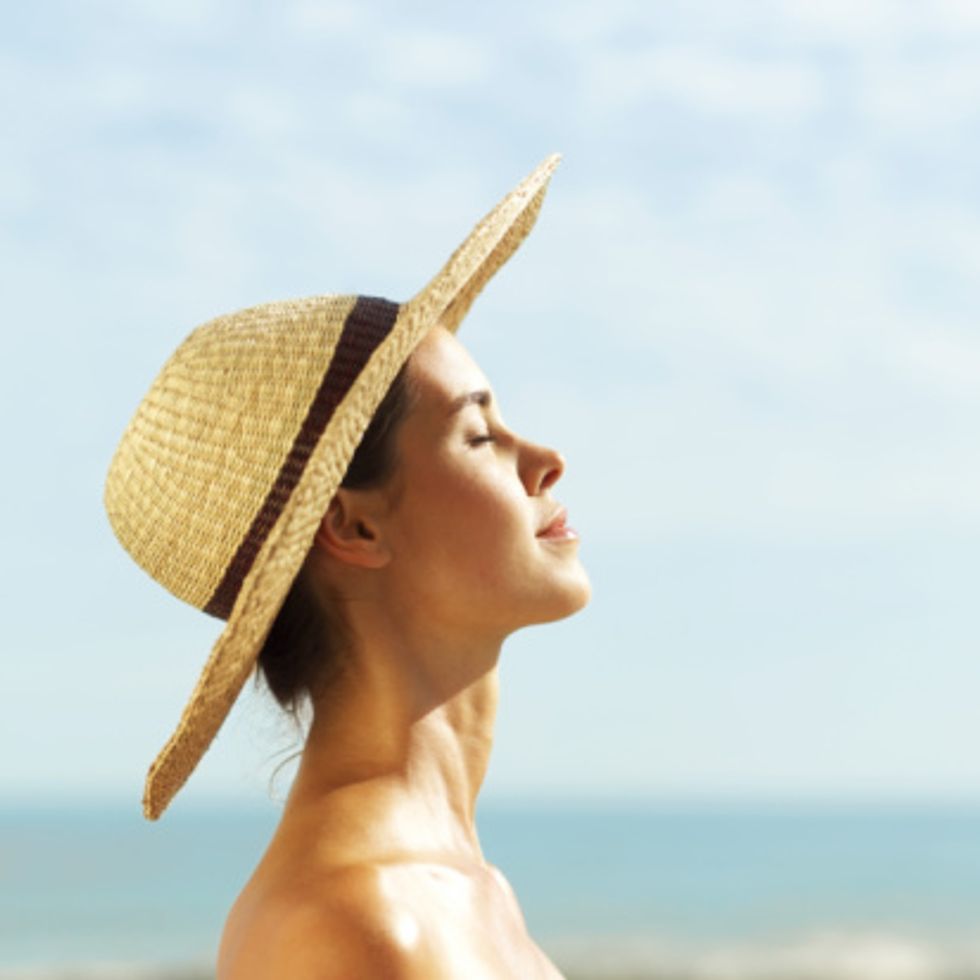 by Bethany Porter

Around this time of year we start to see the cautionary stories in women's magazines and online about the damaging effects of tanning and sun exposure. Pages upon pages confront us with scary-looking moles and recommendations for summer skincare. But, to be honest, it always goes right over my head. It's a sad fact that for most of us, a tan is the ultimate summer goal. It's obvious why; a tan can make you look healthier and glowing, but is all that exposure really worth it?
---
This past month I took the time to actually read some of those scary sun articles and I made the decision to start really taking care of my skin. It can seem daunting and maybe you aren't the type who sunburns (lucky lady!) but the bottom line is that every time you get a tan you're inviting wrinkles and cancer-causing sun damage.
So, one busy woman to another, here is your easy-to-follow game plan for summer sun skincare:
Prep
Part of making your skin look glowing, young and healthy even without a tan is exfoliation. In the summer when your limbs aren't wrapped in layers of fabric you might slack off on this a little, but you still need to give yourself a good scrub down every few days.  This is also the first step before applying self-tanner.
Prime
No matter what your skin's color, it will look better when it's fully moisturized. If you plan to use a self-tanner, try a lotion with super skin smoothing ingredients like Shea and cocoa butter before you apply.
Protect
You must wear sunscreen. Have you noticed that all the celebs whose skin looks flawless and wrinkle-free say the same thing when asked about their beauty routine: "Always use sunscreen." Sure, they have access to high-profile dermatologists, but those high-brow derms are telling starlets the same thing they're telling you—use sunscreen.  I used to despise the feeling of slathering on SPF under my makeup but the newest formulas to hit shelves are simply revolutionary. I have begun using L'Oreal Paris Sublime Sun Advanced Sunscreen for Face SPF 50+ and I am head-over-heels for it. It doesn't have that chalky texture I've experienced in sunscreens before. It glides on smooth and disappears. Don't make the mistake of forgetting your neck and cleavage as well. Wrinkles in those areas are a tell-tale sign of skin damage and they age you drastically. Legs and arms are easy – try a sheer sunscreen mist.
Pretend
Go ahead, fake a tan. Honestly, no one will be the wiser and speaking from a pale perspective, the self-tanning formulas available now are the best they've ever been. For an instant tan, make sure to follow the first two Ps – prep and prime – and you'll get a streak-free finish. The new products out there really make it a no-brainer. Need a quick result? Try wipes from brands like Tan Towel. I use them all summer. For a gradual tan I love the lotions that are available at drugstores. My new obsession is Jergens Natural Glow Moisturizer with SPF 20. It gives a realistic color over several days and it has SPF, perfect! No matter what formula you like, April is a great month to try a few and see what works. Keep in mind that stores like Sephora let you return used merchandise if you're unhappy with it and have your receipt, so take your time in finding a good fit.
Persist
Protecting your skin from sun damage is a long-term thing. You can still bask in the sun's rays this summer but take steps to protect yourself. We spend so much money on anti-aging creams, firming lotions and other concoctions to look young and fresh, but the sun can strip away that hard work with just one bad burn or prolonged exposure. Take 5 minutes and lather up with sunscreen, buy a chic hat and spend alternating time in the shade and sun. It's the smart thing to do.
You may also want to visit HealthyWomen's Skin Health Center or read:
Healthy Skin Dos and Don'ts
9 Sunscreen Booby Traps to Avoid

Bethany Porter is a blogger and beauty junkie. She believes in healthy living and that women have powerful potential for beauty both inside and out. You can find more from Bethany at her blog: http://lucky-fifth.blogspot.com/