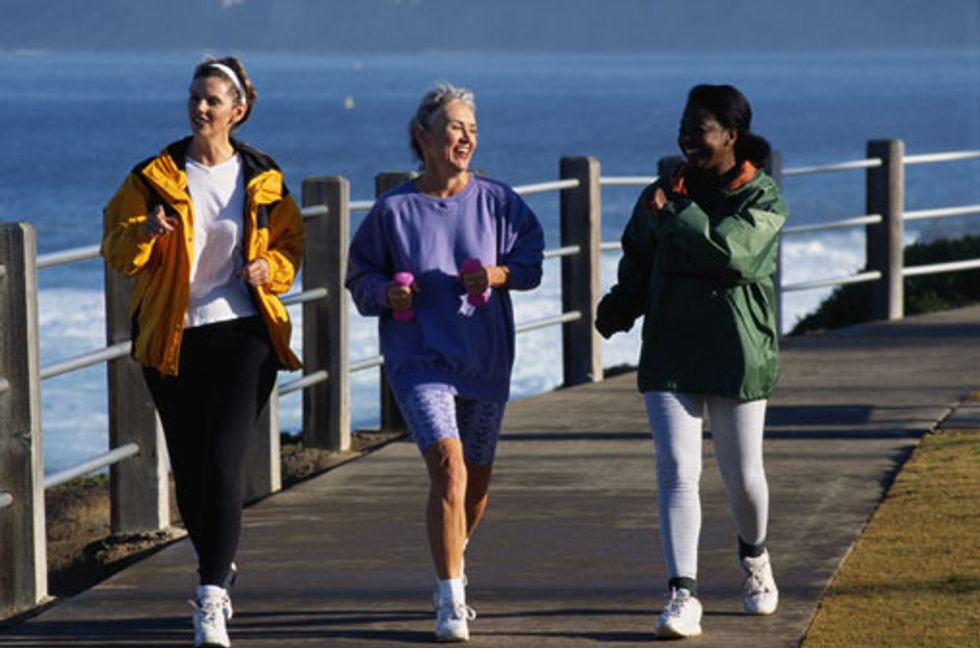 Talk about competitive. Margaret Hagerty has competed in marathons on every continent (including Antarctica), has run the Marine Corps Marathon 11 times (one time when Oprah also participated) and won several medals, including a gold, in the Olympics.
---
The Senior Olympics, that is. Ms. Hagerty is 79, and she didn't even slip on a pair of running shoes until age 64. That's when her doctor told her to quit smoking and get moving. The next morning, instead of coffee and a cigarette, she started jogging. She's been at it ever since.
Want more proof that extreme sports are not just for the young? I led 12 of my women patients - all over 40 - in the New York Marathon. Some walked and others ran, but we all finished the 26.2 mile course. The AARP gets hundreds of participants in its mini-triathlons for those 50 and older, which features a 300- meter swim, a 20-kilometer bike course and a 5-kilometer race. Ms. Hagerty competed in one earlier this year as part of her training for next summer's Senior Olympics triathlon.
According to Margaret Hawkins, AARP's health campaign manager, the majority of the participants are "first timers" who have never completed a triathlon before, and they rave about "getting into shape" in a fun, supportive environment among their peers. Ms. Hawkins says it's truly inspiring to see the competitors crossing the finish line and see their delight in completing the event, proving that it's never too late to start a physical activity routine.
The key to meeting such a goal - whether it's hiking a mountain or running or walking a marathon - is training. But, fitness experts like Mindy Solkin, a running coach and owner of The Running Center in New York City, say there's no one way to train for such events. There are many training myths that may keep people from even considering a marathon. The most common myth, according to Ms. Solkin, is that you must run at least 60 miles a week and run every day if you're training for a marathon. Actually, current training advice is to ramp up slowly.
That's how Ms. Hagerty does it: She generally runs about four days a week, her distance ranging depending on the weather and how she's feeling, but usually ranging between four and 10 miles. She also swims and works out with weights one day a week. She's careful to stretch and pay attention to her body, and is happy to report she's never had any major injuries since she began her running career.
She considers herself lucky to have found something she really enjoys doing that's so good for her. So can you.
For the Rest of Us
Few women are going to run a marathon or climb a mountain. Heck, there are days you probably think you're doing well just to get out of bed. But if you're motivated by what you've read here and are ready to change your sedentary lifestyle into one filled with physical activity, follow these suggestions:
Consider your lifestyle. Do you have a fairly regular schedule that would let you hit the gym every day, or sign up for a class? Or do you need the flexibility of exercising when and where you can, whether that's walking the dog or walking the mall?

Start slowly. One of the primary reasons people quit exercising is they overdo it early on, get injured or become frustrated when they don't see quick results. But it could take up to 12 weeks to see measurable changes.

Warm up and cool down before and after every exercise session to prevent injury and soreness. A warm-up consists of five minutes of low-level aerobic exercise followed by mild stretches (don't stretch first, when your muscles are cold), during which your heart rate slowly increases and your muscles slowly get warm as blood flow increases. To cool down, walk slowly until your heart rate is below 100 beats per minute (16 to 17 using a 10-second count). This is especially important for older women; skipping your cool-down can sharply reduce your blood pressure and cause muscle cramping.

Rest when you're not feeling well.

Wear the right shoes and clothing. It's worth going to a specialty athletic shoe store, or running shoe store, where employees have the expertise to make sure you get the right shoe, the right fit, for the right sport. Replace your shoes about once a year if you're a regular exerciser.

Vary your activities. This is known as cross training. So one day you walk, the next you lift weights, the next you bicycle, and so on. It keeps you from getting bored and targets different muscle groups.

Drink and eat right. That means hydrating before you even start exercising, and taking sips of water throughout your exercise period. Don't exercise on an empty stomach, but neither should you begin a strenuous workout after a heavy meal.