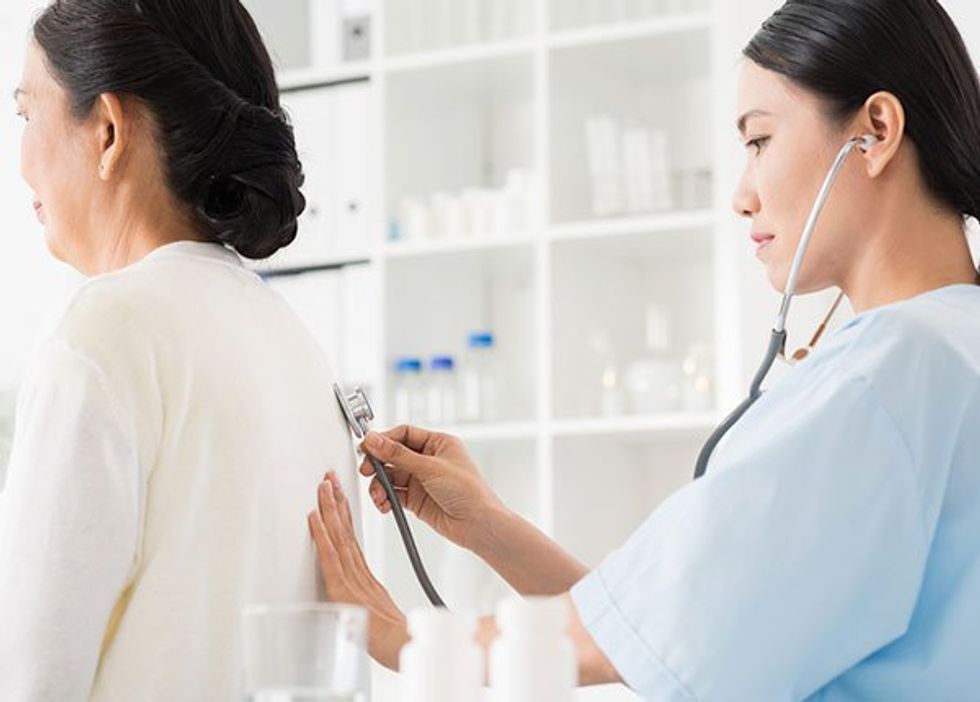 ---
by The Society for Women's Health Research and The American Lung Association
Recently, the American Lung Association surveyed 1,000 American women to learn their perceptions about which cancers impact women. One cancer in particular was barely a blip on their radar: lung cancer, the number-one cancer killer of American women.
When asked to identify cancers that affect women, only 1 percent of women cited lung cancer on a top-of-mind basis. What else don't we know about lung cancer and women? Is it "gender blind"? Or are there differences between lung cancer in women and men?
One important difference is that long-term lung cancer rates are heading in different directions for men and women. Over the last 38 years, the rate of new lung cancer cases has fallen 29 percent among men while increasing 96 percent among women.
This is mostly due to smoking rates, which peaked earlier for men than women. Women smoked at a much lower rate than men until the 1970s, when cigarette companies started marketing specifically to them. This later spike in smoking is reflected in the later peak seen in female lung cancer rates. Male lung cancer rates peaked in 1984, while female rates peaked in 1998.
It's important to note, however, that anyone can get lung cancer. In fact, about two-thirds of lung cancer diagnoses are in people who have never smoked or people who have quit. Other factors closely tied to lung cancer include exposure to radon, secondhand smoke and other air pollutants.
There are two main types of lung cancer: small cell lung cancer and the more common non-small cell lung cancer (NSCLC). They are named for what the cells in the cancer look like under a microscope. Rates for these two types are similar in women and men. But there are additional subtypes within these two, and this is where gender differences appear.
When we compare the two most common types of NSCLC, we see that the rate of squamous cell carcinoma is 50 percent higher for men than for women, while adenocarcinoma is 21 percent higher for women.
One of the biggest differences between women and men regarding lung cancer may have less to do with biology and more to do with awareness and attitude. More women than ever are dying of lung cancer, yet few women identify lung cancer as a serious health threat. The real risk to women from lung cancer is more than sobering, it's alarming.
In 1987, lung cancer surpassed breast cancer as the leading cause of cancer death among women in the United States. It's estimated that in 2016, one in four cancer deaths among women—that's about 72,000 deaths—will be from lung cancer. In addition, nearly half of women diagnosed with lung cancer will not be alive a year later.
But there is increasing hope for lung cancer patients in the form of targeted therapies and immunotherapy, which are both proving effective against lung cancers with specific biomarkers. A number of clinical trials are also underway that could yield even more therapies, further improving survival rates. Recent recommendations in screening with low-dose CT scans for the high-risk population also generate new hope by discovering the disease at an earlier, more easily treatable stage.
In light of this unheralded health emergency, the American Lung Association launched LUNG FORCE, an initiative to unite women against lung cancer and for lung health. LUNG FORCE works to increase awareness and understanding about the disease, provide patient advocacy and support, and fight for increased funding for lung cancer research.
The Society for Women's Health Research recognizes the importance of research on biological differences in lung cancer as a critical priority in its ongoing mission to advance the cause of women's health. We urge women to take the risk of lung cancer seriously, learn more and take action to save lives.
Follow Society for Women's Health Research on Twitter: www.twitter.com/SWHR.