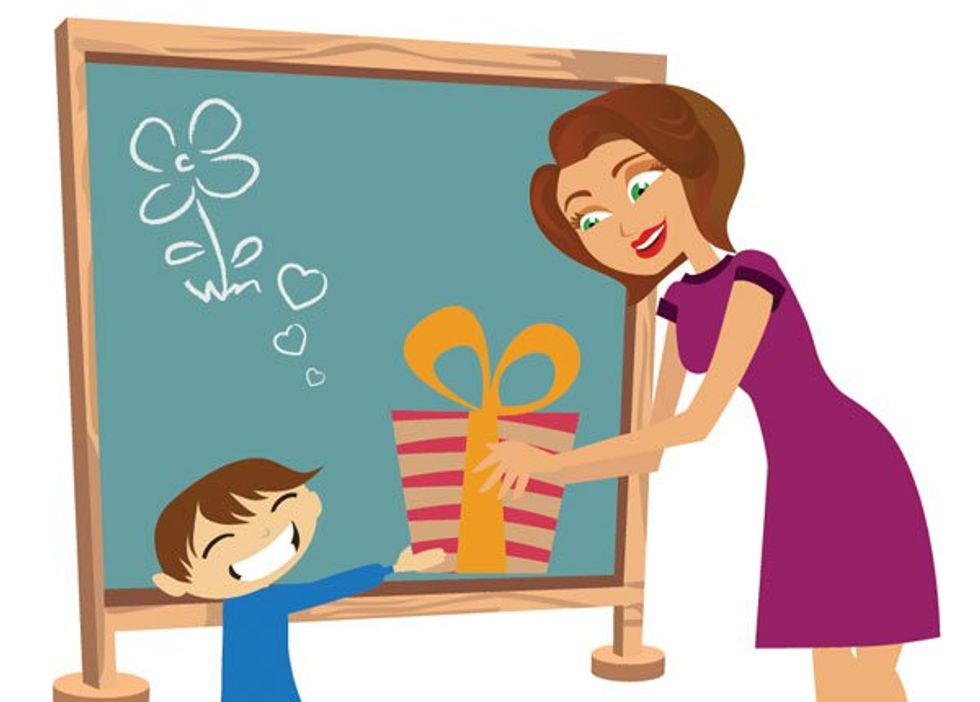 ---
The end is near: The school year is almost complete. By now, most students, parents and teachers are ready for it to be over. Before you run out the door to a homework-free evening, thank your child's teacher for all her hard work.

With endless possibilities at your disposal, the thought of choosing a gift may seem daunting. "As a teacher, I have gotten some really great gifts, and honestly, some gifts that I still have never used," says Heather Ruiz, an elementary school teacher in Waldwick, New Jersey.

First, think about your teacher's personality and hobbies when selecting a present. If you can, consider giving something more personal, as opposed to generic. "I think the best gifts are the ones that show that the child or adult knows you as a person and not just their teacher," says Emily Wise, a third-grade teacher in Lancaster, Pennsylvania. "If you know she loves butterflies or owls, for example, get her something dealing with that." Think about what you would use and truly want in your own home, too, another elementary school teacher added.

If money is tight, you can create something memorable. "Some of the best gifts I have received are homemade ones that I can keep in my classroom from year to year," says Lisa Glass, a first-grade teacher in Boynton Beach, Florida. "I have gotten a mason jar filled with compliments and a cork board with scrap paper where I can keep important messages."

Ruiz echoes that sentiment. "Most teachers might agree with me that they really appreciate gifts that are creative," says Ruiz. "Teachers themselves are creative. So when they receive something handcrafted or that looks like a little extra effort was put into it, it makes them feel good about what they do."

Consider including a short but heartfelt note about how the teacher made you and your child feel. "Teachers put in endless amounts of hours helping to shape their students. So when a nice gesture is returned, they feel partially responsible for it," adds Glass. "It's a nice pat on the back."
Wise says that a note from the child or parent adds a special touch to any gift. "I have saved all my student and parent letters from over the years and love rereading them," says Wise. "It helps me remember them and the special year I shared with them." Consider sending a copy of the letter to the teacher's principal or supervisor so he gets even more credit for his hard work.
Here are a few ideas that are sure to earn you an A:
The caffeine addict: Caffeinate her with a gift card to a coffee shop. Accompany the gift card with some coffee. Your note can say, "Thanks a latte for all you do." And don't worry that you're being unoriginal with a gift card. "All teachers love gift cards!" says Wise. However, you can pass on wrapping the gift in a mug; most teachers surveyed said they have too many and they're just collecting dust.

The traveler: Make it easier for her to log up those miles by giving her a gas station gift certificate. Your note can read, "Tanks for all you do."

The sun worshipper: The teacher will likely spend some of summer poolside or with her toes in the sand. Fill a beach bag or tote with a towel, magazines, a book and sunscreen. "A summer vacation basket of goodies definitely would be fun to receive," says Ruiz. Because these are all useful items, it's OK if they receive multiples, adds another elementary school teacher.

The movie buff: Rainy days may be spent at the movie theater catching the latest flick. Give her gift card to a movie theater, boxes of candy and some microwave popcorn.

The green thumb: If your teacher has a passion for gardening, fill a cute watering can with packages of seeds, gardening tools and gardening gloves. Your note can say, "Thanks for helping me grow."

The bulletin-board decorator: Teachers often pay for many classrooms supplies out of their own pockets. Give them a gift card to an office supply store or local craft shop for school supplies to make it easier on their wallets.

The philanthropist: Make a donation in the teacher's name to a charity you support or one you know your teacher favors.

The beauty buff: Give her a session of pampering with a gift card to a nail salon or spa. Remember that some teachers commute to school so consider one in their hometown or to a chain that has multiple locations.

The bookworm: Give a gift card to a local bookstore or for online book shopping if you know the teacher prefers to download electronic books.