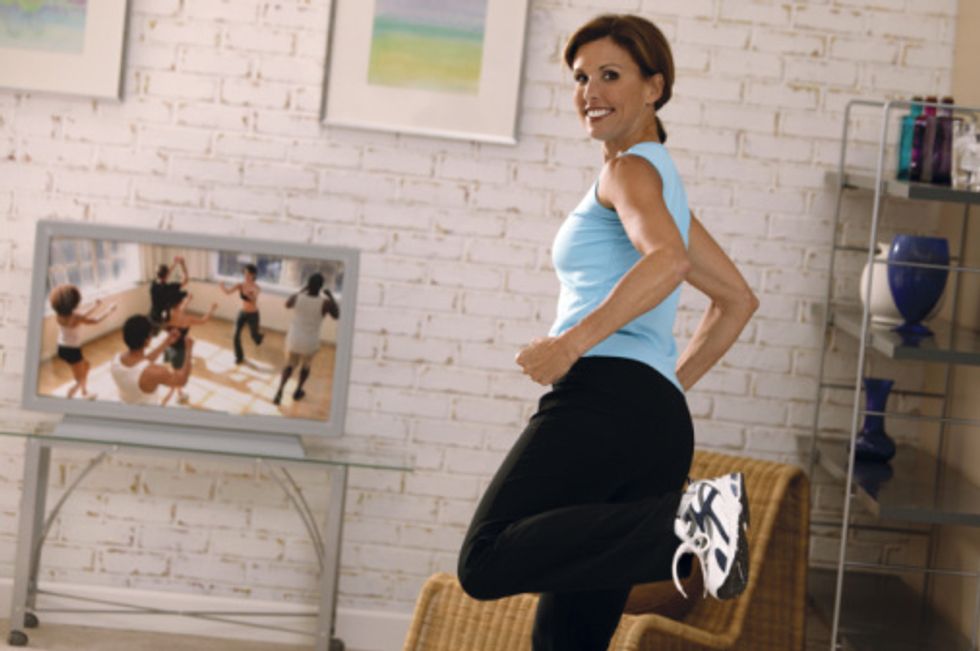 These days, many of us are turning to the Internet for inspiration for exercise, diet and beauty. Some exercise routines get so many hits on sites like YouTube that they go viral, get picked up by local media, then become worldwide media sensations.
---
Three such exercise workouts have recently made headlines for their outlandish approaches to fitness, from prancing like a horse to acting like a dominatrix to sweating it out in a pair of stiletto heels.
1. Prancercise
Developed in 1989 by Floridian Joanna Rohrback, the Prancercise routine was virtually unknown before Rohrback's tutorial video showed up on YouTube and started attracting people's attention. Taking her cue from horses prancing around in a field, Rohrback straps on a set of ankle weights, then trots and gallops down the sidewalk.
Her moves look silly to some, but any type of movement that gets the heart pumping is good for the body—whether trotting, galloping, prancing or just power walking. Inspired by Rohrback's fun, upbeat and carefree style? Put on some music that moves you and go!
2. 50 Shapes of Grey
E.L. James' novel, 50 Shades of Grey, went viral, so it's no wonder this workout, inspired by the book, has gained a following. Developed by Kristen James, an exercise guru in New York, the 50 Shapes of Grey workout encourages kinky sex moves that tone core muscles and are purported to make women feel more self-confident. There are 13 "sexercises" in all, with names like "sexy scissors" and "seductive squat," which are supposed to prepare women for better, bolder action between the sheets.
Hmmm … A BDSM-inspired workout that makes women feel more confident and bolder? No comment.
But there's no denying that core training of any kind strengthens and tones the body. So if you are one of the many fans of the book and it inspires you to work out more, go for it. The best workout after all, is the one you do!
3. Heel Hop
Heels are some women's best friends, and one woman in particular is so attached to her stilettos, she decided to develop an exercise routine based on them. Kamilah Barrett, who was a backup dancer for artists like 50 Cent and R. Kelly, teaches this routine in Los Angeles, and heels are required.
The moves aim to strengthen the body's core muscles, improve posture and provide better spinal alignment. Some experts point out that the routine may not be entirely safe, because high heels have been known to cause a variety of foot problems.
Try this one at your own risk!