As told to Diana Whitney
I was one of those people who never thought about cancer. I was too young, too healthy, immersed in my life and raising my kids. It came out of the blue, but maybe that's how every cancer survivor feels.
After my daughter was born in 2012, I wanted to get in great shape. I joined a gym, got a personal trainer and started an intense boot camp class. But for some reason, my whole body was toning except my stomach. Even though I was working out hard, my belly kept protruding like I was pregnant. When I'd hold a plank pose, it would touch the ground. I asked my trainer if this was normal, and he told me, "Oh, that's just your muscles toning up."
I kept going to the gym, trying everything to get rid of my stomach. I started Zumba and worked up the confidence to dance in the front row. One day I bumped into my instructor in the bathroom.
"Thanks for joining my class," she said. "And by the way, you look so cute pregnant!"
Her casual comment brought me to tears. I was still in denial that anything might be wrong. I went out and bought an expensive waist trainer and almost killed myself with it. I wore that rubber corset all day, exercising in it, sleeping in it, trying to get my stomach down. At work, many of my patients also thought I was pregnant. But I'd taken at least 10 pregnancy tests and knew I couldn't be.
Eventually, I started cutting back on food. I'm surprised I didn't give myself an eating disorder. I went to a weight-loss clinic where they reviewed my diet, weighed me in at 127 pounds and did a physical exam. I remember lying on the table, seeing the nurse's eyebrows go up when she put her hands on my abdomen. Her touch started getting more invasive. She left me alone in the room, then sent in another woman to feel my stomach.
"Your blood work looks fine," she said. "But we need you to contact your primary care provider as soon as you leave. Something's wrong."
Everything moved quickly at that point. My doctor fit me in and ordered a CAT scan and an MRI immediately. My husband was working out of state, and we only saw each other on weekends, so I brought my mother with me to the MRI. I usually go alone to appointments, but some instinct told me I needed support.
After the testing, I was ready to go home, but they kept us sitting in the waiting room for ages. When I asked the assistant what was happening, she said, "We're contacting your doctor's office to get a plan."
Then I understood. I work in the medical field, and we only use the word "plan" when it's the C-word. I sat there thinking, No, nope, it cannot be cancer. I didn't sleep that whole night.
The next day, I went to the oncologist. "I'm not going to beat around the bush," he told me. "You have cancer. There's a huge mass in your abdomen that we need to remove as soon as possible."
I had to excuse myself from his office. I walked to the bathroom, went into a stall and closed the door. All I remember is letting out this weird cry, then falling to the floor sobbing. I called my husband and told him, and we cried together on the phone.
It turned out I had liposarcoma, a rare type of cancer that occurs in the fat cells. They scheduled surgery that same week. The tumor was malignant, and everything it touched had to be removed. Wearing the waist trainer hadn't helped — it had pushed the whole mass up my left side. They had to take out my spleen and part of my pancreas and then reconstruct my colon. That tumor weighed 13.5 pounds, bigger than most pregnancies.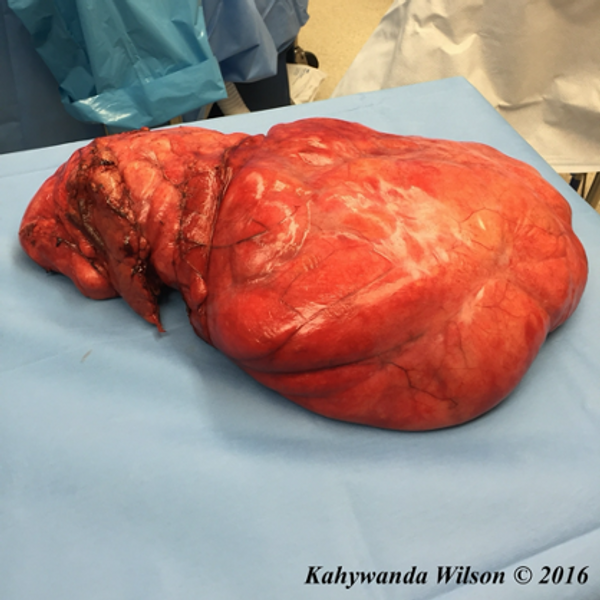 The author's abdominal tumor, removed during surgery in 2016.
The recovery was grueling. I lived off of a feeding tube and was confined to my bed for a good two months, unable to walk. They wanted to send me to rehab, but I fought to stay home, close to my family. My baby girl had just started preschool and my older son was 15. I'd been very active in his life and his football team — that was over.
After surgery, I felt depressed and distraught, terrified the cancer would return. My doctor referred me to a therapist who reassured me what I was experiencing was normal. "This is what cancer patients go through," he said, and suggested I try meditation to ease my anxiety.
The following year, I got my energy back. I was able to start running again, which is the ultimate exercise for me. I felt healthier and lighter and could do things I couldn't do before the surgery, like lift up my legs. I started using essential oils to support my health and found lavender oil worked wonders for my nervous system. Now I diffuse lavender before follow-up appointments at Dana Farber Cancer Center to help relieve my fears.
So far, everything's been good. I'm dedicated to living as healthily as possible. I cut out red meat and eat a clean diet of mostly vegetables and seafood. I grow my own organic vegetables and keep a wonderful garden, which really helped me when COVID hit. At first I was terrified by the pandemic. I thought: I beat cancer, I can't let COVID take me! But working in my garden keeps me calm, as do meditating and running in nature. I've also created a home gym with a punching bag, gloves, weights and a jump rope.
I love exercising and I'm as strong as I've ever been. I have everything I need at home.
Kahywanda Wilson lives with her family near Hartford, Connecticut, where she tends her organic garden and runs on the back roads. She works in the medical field and is passionate about nutrition, fitness and essential oils. Follow her on Instagram @kdgrange.