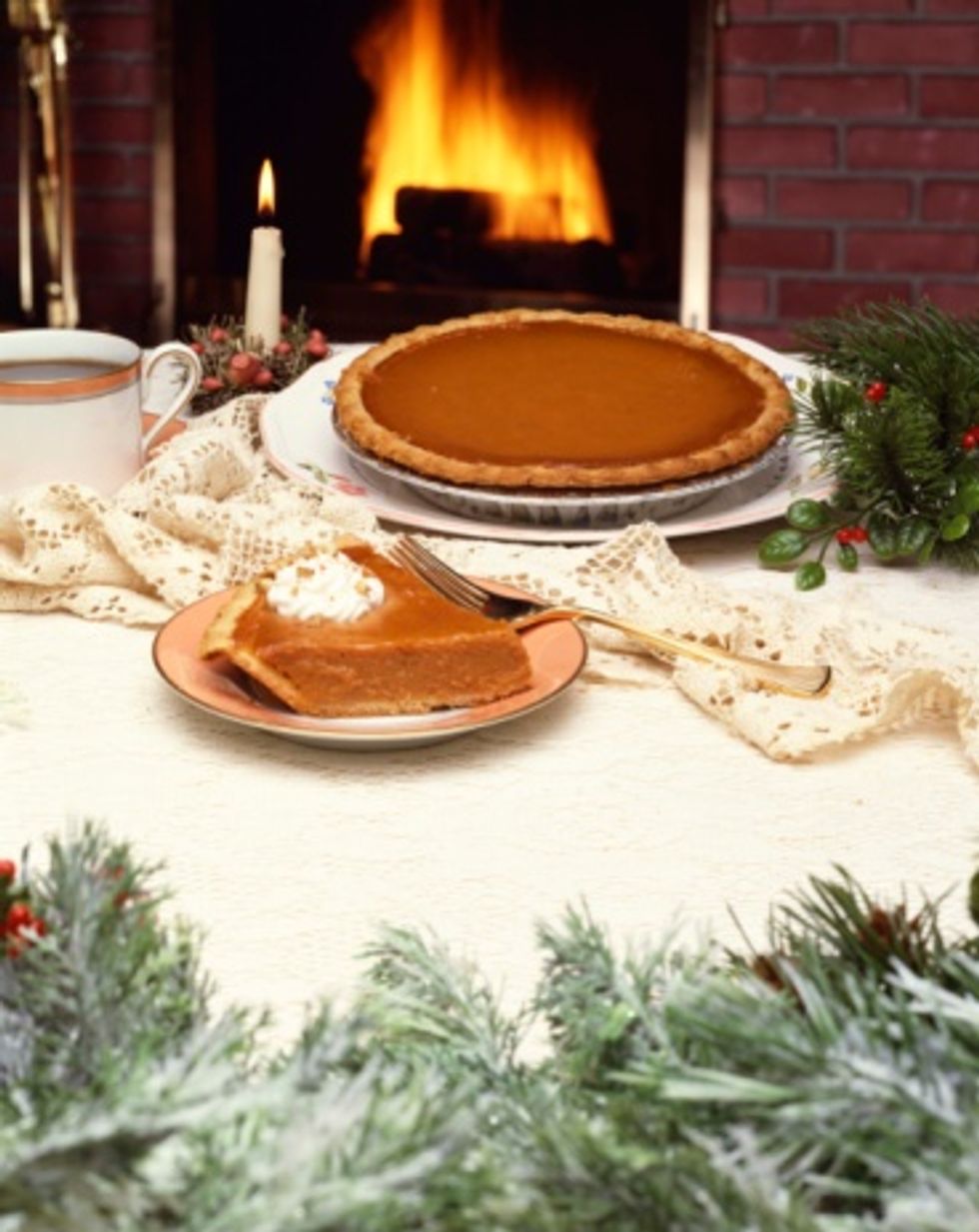 OK, we've survived the Thanksgiving feast, but most of us aren't home free when it comes to the holiday eating season. There are fried latkes for Hanukkah and all manner of parties and eating associated with Christmas and the New Year. So, what's a woman to do?

My personal solution, which I don't recommend, is that I stay so busy from Thanksgiving through Christmas that I usually don't gain weight. I also make it a point to keep up with my exercise, so I don't totally stress out. The problem for me often comes post-Christmas, when I've become accustomed to overeating, and then I find it hard to cut back when the doldrums of winter set in.

Tanya Zuckerbrot, MS, RD, a New York City-based dietitian, author and founder of the F-Factor Diet (www.ffactor.com), recently sent out some holiday survival tips, which I'm happy to share. After all, what woman can't use a little bolstering up around the start of December?

Here is Tanya's holiday survival guide:
---
In the office: If you work in an office, be prepared for the deluge of guilty treats your colleagues will graciously want to share. Stash your own healthy snacks in your desk or the office fridge so you won't be tempted to grab a handful of holiday candy. Dried fruits and nuts or a piece of string cheese or crunchy carrots are all healthy choices.
Eat before the party: Make sure to have a filling snack before attending a holiday function. Arriving satisfied, rather than famished, will allow you to make rational, healthy decisions when faced with tempting appetizers. High-fiber crackers can be paired with many great toppings and will keep you full longer than refined bread or crackers.
Don't skip meals: Don't "save up" your day's calories for a big dinner or party. Studies show that people who skip meals slow their metabolism, causing them to burn calories less efficiently. In addition, going too many hours without eating causes your blood sugar levels to plummet, making it more likely you will overeat at your next meal.
If it's thick, it will stick: At holiday dinners, skip the gravy, dressings and high-calorie condiments.
Hover over the crudité: When at a party, scout out healthy food options. Look for things like vegetable sticks (without dip), fruit pieces, plain chicken pieces and olives. Then move on to some of the less healthy offerings. You will be less likely to overindulge on these foods if you have filled up on some of the healthier items. Yet, you will not feel deprived.
A glass of wine is OK: The average alcoholic drink contains 150 to 200 calories per glass. Stop at two and avoid drinks made from mixes and frozen cocktails. And definitely say no to the eggnog.
Hands up: Keep your hands occupied. At cocktail parties, try keeping a beverage in one hand. It will make holding and eating a plate of fattening hors d'oeuvres difficult. If you have had your glass or two of wine or you prefer not to drink alcoholic beverages, fill a pretty glass with seltzer water and a twist of lime.
Here are some additional tips from Zuckerbrot for making healthier holiday food choices:
Protein-based appetizers: Instead of pigs in a blanket, which are 460 calories per serving, look for appetizers like chicken or beef kabobs, chicken satay or lean turkey meatballs, which are all less than 200 calories per serving.
Turkey: If turkey is on the menu, white meat trumps dark meat. It's lower in calories and saturated fat and provides a great source of lean protein.
Crab cakes vs. shrimp cocktail: Classic crab cakes are often filled with fattening fillers and deep-fried. Just one fried crab cake can cost you 290 calories and 19 grams of fat, and that's before the creamy dipping sauce! Instead, reach for waistline friendly shrimp cocktail.
Prime rib vs. filet mignon: If prime rib is a holiday tradition in your home, it might be time to start a new one. This cut of beef comes from the fattiest part of the cow, and one piece packs a whopping 750 calories and 45 grams of fat. That's almost half your calories for the whole day. Instead, try filet mignon, which is a lean cut of beef. A 4-ounce steak is only 180 calories and 8 grams of fat.
Pecan pie vs. pumpkin pie: Yes, some of the fat in pecan pie is monounsaturated heart-healthy fat from the pecans, but those pecans are swimming in sugar. At 500 calories and 37 grams of fat, pecan tops the list of worst pies. When it comes to picking pies, always go topless. Pumpkin pie is a good source of fiber and vitamins A and C, and it weighs in at 316 calories and 14 grams fat per slice.