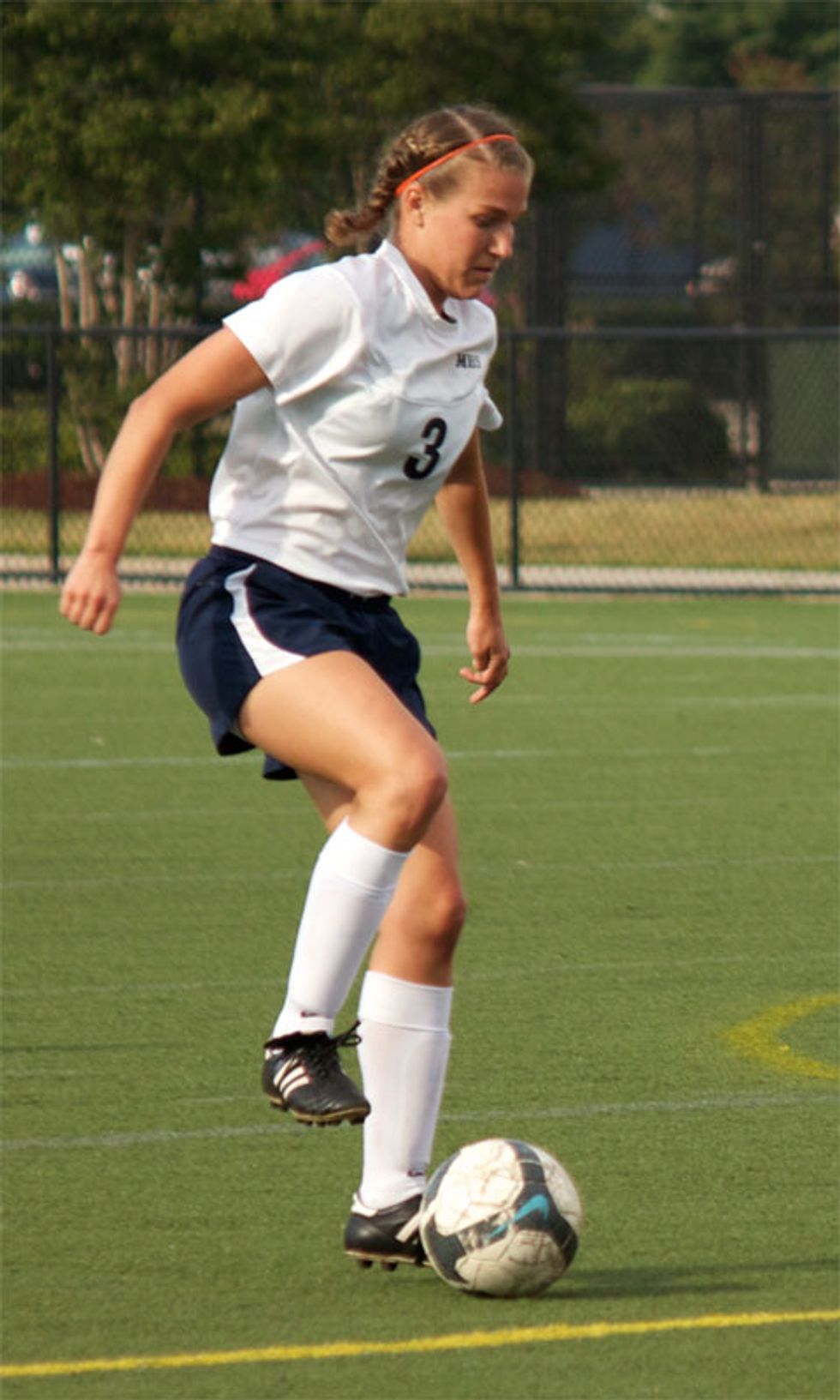 There's been much in the news lately about the dangers of concussions, ranging from the dangers to NFL linemen and military veterans to young girls on the soccer fields. I have two daughters, now ages 17 and 20, who have played a combined 30+ years of soccer, so these stories concern me. My older daughter, who played soccer less intensely and at a lower skills level, has had a few concussions. She no longer plays competitive soccer, but I worry about her, even when she occasionally plays for fun. The younger daughter has played competitively since she was 9 years old and just played her final competitive match this week. Through all of her years of play at high levels, she escaped serious injury.

Amidst my sadness at the end of an era, I breathed a sigh of relief as she came off the field at the end of her last game Tuesday with nothing more serious than a scraped elbow and a sore back. I don't take my daughters' injuries lightly, and I can only hope that the physical, social and emotional benefits they've gained will outweigh any injuries they've sustained. Only the future will show how the wear and tear on their bodies (and brains) has affected them.

For now, I'd like to reflect on the good things they learned from years of play. As a parent, I had a lot invested in their soccer—financially and in terms of time and emotions. For 17 years, I've taken them to practice and attended nearly every game in which they've played. With the younger daughter, that grew to a major commitment as she played competitive club soccer, Olympic Development Program (ODP) soccer and high school soccer. For about nine years, we drove 30 minutes to and from training nearly every weekday and organized our weekends around game schedules and training. We sent her to regional ODP camps in Rhode Island and national camp in California. We traveled to tournaments in Florida, Texas, Chicago, Oregon, New Jersey, and other far-flung places. For the most part, I loved every minute of it and was so happy to be a part of the girls' soccer activities.

We thought the younger daughter would go on to play in college, but things turned out differently than we expected, and so we're adjusting to the end of soccer. As I grieve the passing of soccer as a part of our family life, I am thankful for what it has given us. 

For those of you who are weighing whether contact sports are worth the risk for you and your child, I can't answer that for you. There are benefits to be gained from many activities, from football to fine arts. Certainly, not every child wants to play sports or is suited to play sports, and not every child will continue to play at higher and more dangerous levels. But, if your child wants to play, discuss the risks and benefits with your health care provider.

And, you may want to consider these benefits that your doctor may not mention:

Teamwork: This was one of the earliest benefits I saw in my girls—and one I missed out on when I was growing up. They built strong bonds with girls on their teams, and they learned how to work with teammates on the field, even when they didn't necessarily like each other very much off the field. This will serve them well in the workplace and many areas of life.

Time management and organization: Competitive athletes must learn to juggle, and I'm not just talking about juggling a soccer ball. My daughter often did her homework in the car on the way to and from practices, sometimes by flashlight, and she knew if she had a project she had to plan ahead and start early so she wouldn't get caught in a bind if a training session ran late or was scheduled at the last minute. She also knew that if her schoolwork started slipping, she wouldn't be able to play soccer—and she loved soccer.

Handling wins and losses: No one can win all the time, and sports, at their best, teach kids to handle losses without falling apart and to handle wins gracefully. This is another lesson that carries over to school, relationships, work and every aspect of life.

Independence: Some of my daughters' friends have never been on an airplane or stayed in a hotel room on their own. My daughters have been traveling to tournaments for years and have the confidence and maturity to handle new situations independently and competently.

Maturity: This is linked to all the preceding lessons, but I think it bears mentioning. Even though I am not ready for my youngest to go away to college this fall, I know that she is ready—and that makes it easier.
 
Leadership: Whether through informal situations or formal positions, like team captain, soccer gave my girls opportunities to assume leadership roles and to learn how to motivate and organize their teammates.

Empathy: Sometimes my daughters reached out to support a teammate who'd had a rough game or an injury; sometimes they congratulated opponents who'd played well but suffered a tough loss; sometimes they visited injured or sick teammates or empathized with coaches who'd experienced rough spots.

Athletic skills: This one is almost too obvious to mention and may seem like it would have limited usefulness once soccer ends, but knowing that you have the coordination and athleticism to do a sport is a good life skill. Women of all ages may want to go out and play tennis or paddle a kayak or go for a jog or, yes, possibly kick a soccer ball around. If you know you can do it, you'll likely enjoy those skills throughout life.

Physical fitness: Aside from the soccer-specific foot skills, soccer demands lots of running and, therefore, high fitness levels. My daughter who played competitively trained about two hours a day most days of the week. Both daughters could outrun most of their classmates, but, more importantly they learned to appreciate the value of staying fit. They know what muscle tone feels like, and they understand why fitness is important to their overall health.

These are all lessons I hope they will carry with them throughout life—even if they never kick another soccer ball.