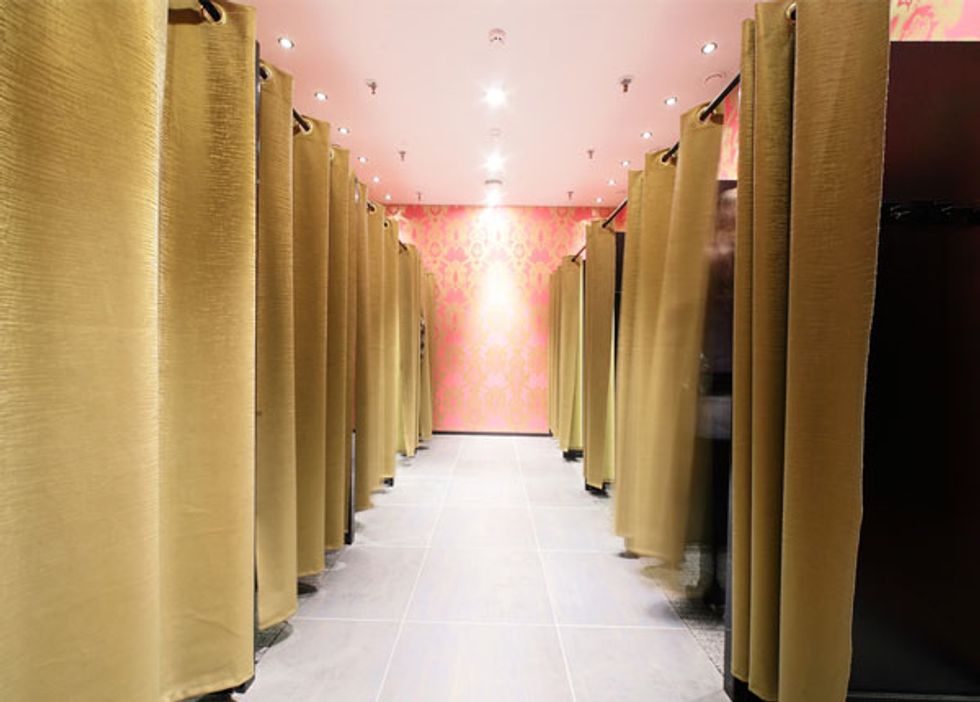 ---
With all the warnings I've given my daughters about watching out for sexual predators—online, on campus or elsewhere—I never thought I would encounter one in the dressing room of a discount retailer. But it happened.  Yesterday morning at 9:30 a.m.
I went to buy a wedding gift and, while at the store, decided to try on some new lingerie for the weekend trip to the wedding. As I came out of the dressing room, I almost ran into a man bent over in the aisle between my dressing room and the one across from me. 
At first I thought he was a store employee. He was dressed in khakis and a polo shirt, very similar to the store uniform. But when I paused, he quickly pressed a button on the smartphone he was holding screen-up under the dressing room door. He then pocketed the phone and walked briskly out of the dressing room.

The woman in the dressing room started screaming that she'd been photographed. I ran out shouting to the nearest clerk that the man walking ahead of me was a sexual predator and had just photographed a woman trying on a bathing suit. The clerk called a nearby male clerk, who attempted to follow the man I was pointing at. 
I ran up the side aisle to the front door and arrived just as the man walked calmly out of the store. Three clerks were standing there, and I screamed for them to follow him and get his license plate and stop him because he was a pervert. The woman among the three clerks followed the man out the door and wrote down his license plate, vehicle make and color. Unfortunately, this chain store does not employ security, so they said there was nothing more they could do. 
By the time the clerk came back inside, the woman who had been photographed was dressed and walking toward us. I ran to meet her. Like me, she was shaking with anger, outrage and disbelief. 
She talked with the clerk and got information about the man's vehicle and called police. They came and took her report and assured her that with the vehicle information, the store cameras and what she and I saw, they should be able to find and arrest the man. 
And they would immediately alert other stores in the same chain, because clearly he had an MO. He came to the store dressed to look like an employee. He apparently had watched one or both of us go into the dressing room with lingerie and bathing suits and picked his target. He could see that no one was attending the dressing room. 
He didn't look in any way suspicious (other than the camera he held under the dressing room door). Like the other woman and me, he was white and middle-aged or older. He was trim, well-dressed and had neatly cut and combed gray hair. 
I keep coming back to those details. He did not look like what we sometimes (wrongly) think criminals look like. He looked respectable—like my good friend's husband. But he wasn't.
He was a predator—photographing partially undressed women without their consent. I know that he photographed the other woman, and I have every reason to suspect that he snapped photos under my dressing room door too. 
Thankfully, no one was physically injured in this sexual assault, but the other woman and I both felt violated and shaken. She plans to press charges if the police find the man. I gave her my contact information and will be more than happy to testify in court. 
There aren't enough warnings we can give our daughters—or enough precautions we can take—to always stay totally safe. And that's why I'm sharing this story.