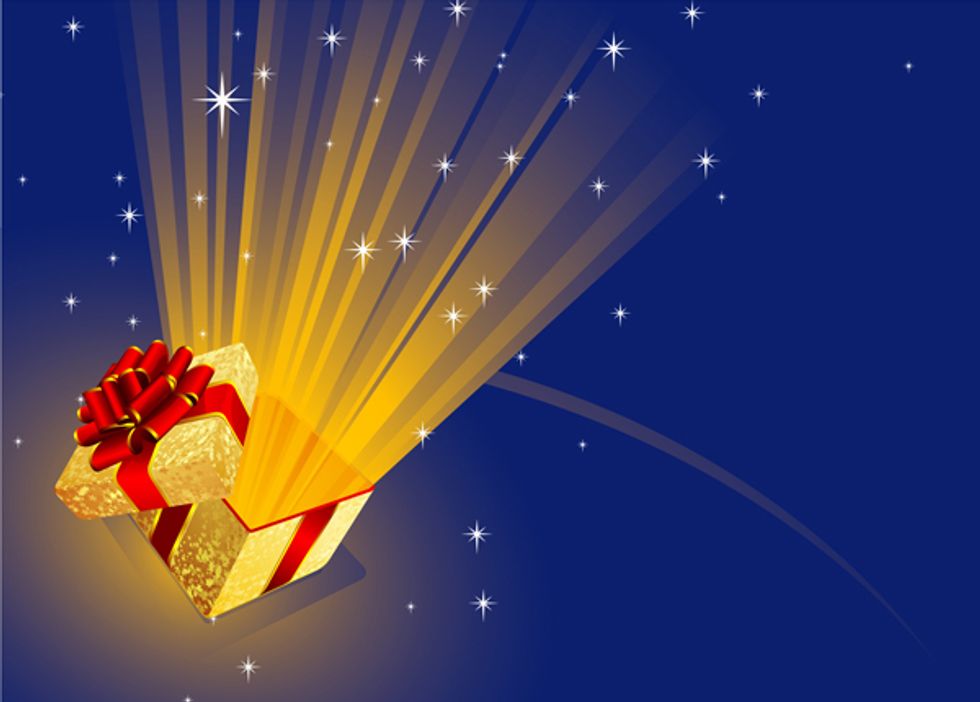 ---
Gift giving … it's a tricky business. Sometimes people are stumped for what to buy (I've been there. Stressing about what to buy someone—Will they like it? Do they need it? Will they want to re-gift it?—can be so nerve-racking and can take all the fun out of buying.)
To help relieve the conundrum and angst that can ruin the jolly art of gift-giving, why not drop some hints? Sure, it might take the surprise out of opening your gift, but then again, you'll get something you truly love.
And just think about it this way: You won't have to fake an enthusiastic, "Wow! How did you know? It's just what I needed!" response, when all the while, you're silently hoping they've included a gift receipt so you can surreptitiously return it after the holidays—and get something you actually could use.
Hint: I'm so sore! I'm so stressed! I wish I had my own personal masseuse.
(What you say when you have stress, a stiff back or sore muscles for the umpteenth time.…)
Gift Solution! A personal masseuse may be out of the question, but here's the next best thing: Your very own personal Quad Shiatsu Massage Cushion ($199.99) made by Homedics. Place it on your favorite chair, plug it in and be prepared for some serious pampering with heat, three massage styles and a huge dose of relaxation. I dare you not to say a big ahhhhh. It's likely you will not want to get up and move for a good long time.
Hint: I feel like a pack mule lugging all this stuff around.
(What you say when your handbag weighs more than you do.)
Gift Solution! Let your vest be your personal butler and do the heavy lifting. ScotteVest has pockets galore—enough to hold all your gadgets and daily essentials and other stuff. Go ahead and throw in that extra lipstick, and while you're at it, take your iPad along, too—there's plenty of room to spare. Their RFID travel vest for women ($135) has 18 pockets to stash valuables like travel documents, cell phone, iPad, Kindle, books, maps, magazine … well, you get the idea. Hands-free never sounded so exciting.
Hint: *&@#! I need to figure out a place to stash this stupid phone.
(What you say when, during your run, you drop your cell phone in the mud … again.)
Gift Solution! Run better and run unencumbered with a fitness "belt" that doubles as a fashion accessory. The DBelt ($39.95) holds all your essentials, so you never have to be stranded without a phone, ID, keys, cash and credit cards. (After all, you never know when the urge to shop will hit.) It's made of a cotton/spandex blend, so it fits right into the sporty look you're after when you're out for a run, walk or bike ride or going to the gym.
Hint: No, I'm not planning on growing this out for Movember.
(What you say when your peach fuzz threatens to morph into a real-life 'stache.)
Gift Solution! You can wax, you can shave or you can take another approach. Dermaflash($189) is an at-home device that sweeps away facial hair and smoothes your skin at the same time. Never be caught with that lip shadow or fuzzy face again. Known as "dermaplaning" in the aesthetic world, this method used to be performed only by skin care professionals. Now, you can sit at home and be your own beauty beast, eliminating all traces of facial hair. And don't worry, like all good myths, this one is not true, either: The hair does not grow back thicker.
Hint: Excuse me (again). Gotta go (again).
(What you say when your weak bladder reminds you to do those Kegels—too late.)
Gift Solution! Too many women are embarrassed to discuss things like this with their health care professionals—and too many health care professionals are too embarrassed (or busy) to ask. But pelvic floor weakening and vaginal relaxation is a major concern for more than one-third of women who have given birth. As a result, between 30 percent and 50 percent of women middle-aged and older suffer from urinary incontinence. While various treatments are available in medical offices, VSculpt ($345) is the first at-home medical device that uses safe therapeutic red and infrared lights (LEDs), gentle heat and sonic technology to rejuvenate your VIPs (very important parts).
Hint:I'd bat 'em if I had 'em.
(What you say when you realize your eyelashes, which you always took for granted, are slowly disappearing.)
Gift Solution! Since you can never be too rich, too thin or have too many eyelashes, Rapidlash ($49.95) will help you achieve at least part of one of the three (sorry, you're on your own to figure out the other two). An alternative to costly lash-growing prescriptions or time-consuming eyelash extensions, this over-the-counter serum helps to enhance, condition and strengthen eyelashes to boost their overall appearance. (It works on brows, too.)
Hint: I hope I don't buy full-fat yogurt instead of fat-free. And I sure pray I don't give the cashier a $100 bill instead of a $1 bill.
(What you say when you realize you left your reading glasses home.)
Gift Solution! Because we usually misplace or forget where we put our glasses (or leave them behind, altogether) Thin Optics ($24.95) has figured out a way to never be without your reading glasses again, offering two ingenious options: The thin, small and lightweight glasses and universal pod case are small enough to store in your wallet, purse or pocket or even stick onto your cell phone case (or any other device); they even make their own phone case that has the universal pod holder already built in. You'll never reach for the wrong yogurt—or hundred dollar bill—again.
Hint: I've been spending way too much money on taxis and Ubers.
(What you say when your cute footwear is really a torture device in disguise.)
Gift Solution!Vionic shoes, founded by Australian podiatrist Phillip Vasyli, will help get you back on your feet with their stylish array of shoes, boots, sandals and sneakers. They have lots of support, cushioning and comfort—and look good, too. Because you know, if your feet hurt, your whole body hurts, and if your whole body hurts, you just can't look good. It's about time you walked without hurting, don't you think? Style and comfort can go hand-in-hand (er, I mean foot-in-foot).
Hint: I need to cut out frivolous extras so I can save to take you away for a special romantic weekend.
(What you say when you blow all your extra money on weekly salon blow-outs.)
Gift Solution!The Remington Triple Infusion Air Styler ($39.99) puts the power of the blow-out back into your able hands. Three nourishing oils infused in the barrel's ceramic coating release onto your hair during styling. What you get in return: frizz protection, volume and wondrous waves.
Hint: If I had a genie in a bottle, I'd ask her for a steady dose of motivation, all year long.
(What you say when you need a kick in the pants to get—and keep—moving.)
Gift Solution! With the Fitbit Charge HR ($150) on your wrist, you can feel assured that someone, or something, cares. The device tracks your heart rate, steps and distance and even tallies the calories you burn with all your hard work. Lest you need a reminder of how awesome you were last week, you can access a summary of your accomplishments. And the Fitbit stays with you 24/7; if you care to wear it to bed, it will monitor the length and quality of your zzz's and even wake you gently the next morning.
This post originally appeared on mysocalledmidlife.net.