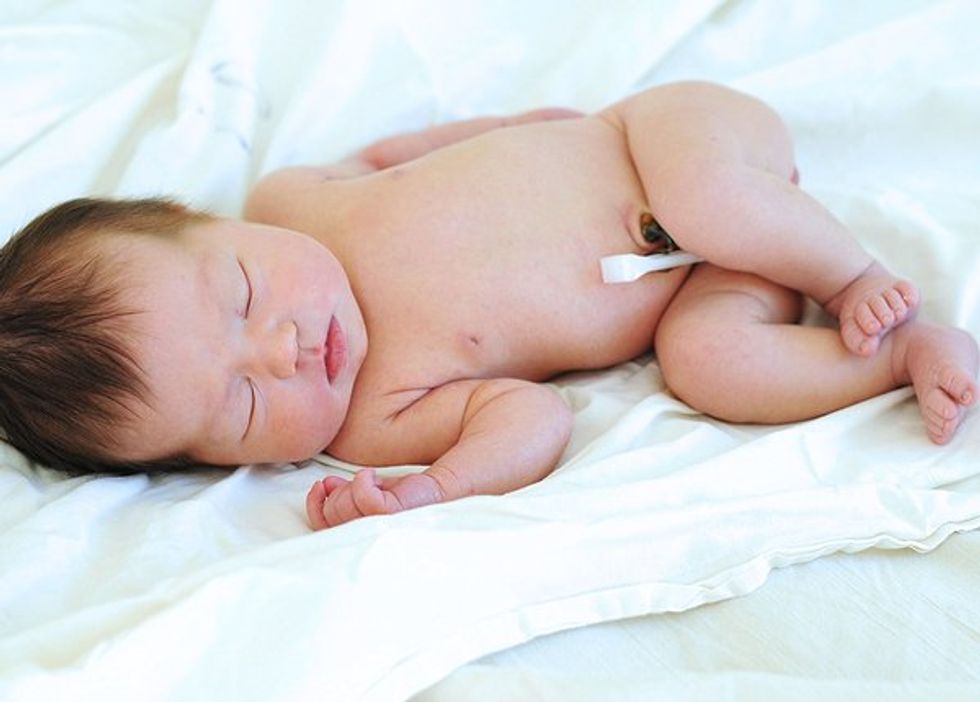 ---
When you welcome your newborn into the world, besides counting its fingers and toes and marveling over the wonders of birth, you might want to think about another precious commodity: its umbilical cord. It's common practice to discard this after a baby is delivered—unless you choose to do otherwise.
July is National Cord Blood Awareness Month and a good time to think about this decision.
Imagine that the potential power to save a life lies somewhere in this cord: The blood from a baby's cord contains a small number of precious stem cells. These stem cells (and the cells in blood marrow) are known as hematopoietic progenitor cells, or HPCs. They can develop into any of three types of lifesaving blood cells including red, white or platelets. These cells mature into healthy blood cells, according to the National Institutes of Health.
If you choose to donate, the cord blood will be collected from both the umbilical cord and placenta shortly after your delivery. Then it's screened to meet requirements and frozen—usually in liquid nitrogen—and stored at a cord blood bank for future use. Although it's not known exactly how long this cord blood can be effective, samples that have been stored for as long as 10 years have been used successfully.
But saving this blood has its fans and its detractors. Some people think the potential benefits are not high enough to justify the costs; others believe it's better to be safe than sorry.
Many private blood banks consider the investment a sort of "insurance policy" in case your child becomes ill. But many medical associations like the American College of Obstetricians and Gynecologists and the American Academy of Pediatrics (AAP) don't endorse the practice for most people, saying that the potential benefits don't justify the costs. The AAP does encourage donation to public cord banks, because these stem cells can be useful in treating a variety of serious conditions for many.
How do you decide? It's all very personal. Some factors to weigh:
Private cord banking requires an annual fee. The blood may only be accessed for a family's private use (sometimes known as a directed donation). The blood may one day be used to treat your child, should your child become ill with certain diseases, or it could help a sick sibling or relative.
Public cord banks donate to anyone who might need it. The blood may also be used for research. Usually there is no fee.
There is little risk to donors.
The odds are pretty low that you'll ever need the blood.
These cells can be used to treat some people (mostly children) with about 70 diseases, including leukemia, lymphoma, sickle cell anemia, neuroblastoma and more; they can also help the body recover from some cancer treatments which destroy healthy cells (like chemotherapy and radiation).
The Institute of Medicine reports that HPCs have recently saved more than 20,000 lives in the United States. Of that number, just 6,000 came from cord blood transplants.
Although the science of cord blood stem transplantation is about 20 years old, it's still a relatively new procedure compared to transplanting with other methods like peripheral blood or marrow stem cells.
There may be undetected genetic diseases at the time of birth, and these might be unknowingly transplanted to the recipient. The follow-up required to track this possibility must be done for months or years after the baby is born and has proven difficult.
The Leukemia and Lymphoma Society suggests that parents have a conversation with their doctor or midwife about possible donation about two months before their baby's expected due date. Keep in mind that not every hospital participates in blood banking, so it's a good idea to inquire about public banking in advance. It's also important to tell your delivery nurse if you want to donate.
Check out www.marrow.org/cord to see a network of public cord banks and participating hospitals.
If you plan to bank privately, arrange to do so in advance and check to make sure your obstetrician or midwife agrees to participate in the collection. Once you sign a contract and pay the initial fee, you'll get the collection kit. Some health insurance may cover the initial and storage fees.