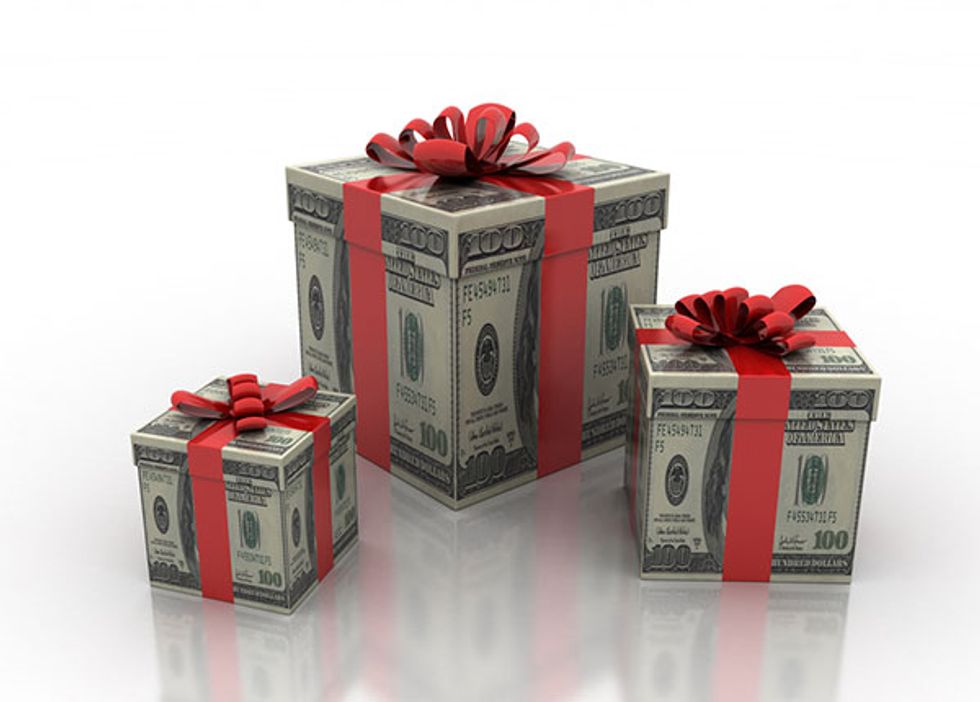 ---
You can't ignore it any longer: It's time to start thinking about the holidays. It's understandable if you've been trying to avoid them. The holidays can be overwhelming—especially when it comes to money.
It's just so easy to overspend on gifts, travel and entertaining. We often end up going overboard, spending money we don't have. The proof is in the numbers: A 2015 survey by CouponCabin, an online coupon and cash-back website, found that more than a third of consumers exceed what they budget for holiday spending. Only 16 percent of consumers said they spend less than they budget.
We're here to assist you with 10 tips to help you avoid blowing your holiday budget. We promise you'll still have a festive, happy and memorable holiday season. You just won't empty your wallet doing so.
Set a budget. Create a budget based on your normal monthly income. Then map out what and who you need to buy for. Remember to include even little gifts like the office exchange, charitable contributions and the service workers you may tip (mail or newspaper carrier, hair stylist, nanny, etc.). And don't forget expenses like food for your annual holiday party, airfare or other travel costs and festive outfits. Don't forget wrapping supplies, cards and postage. If you kept them, review receipts and bills from last year to really see how much you spent. Always add extra to accommodate unexpected expenses. Examine the rest of your finances to ensure that you can afford it all. See if you need to scale back so you don't go into debt.
Research your gift list. Before you head to the mall, figure out the best place to get the items that you want. Social media sites and the retailers' websites often promote the latest coupons and deals. It may be cheaper to purchase items online (factoring in any shipping costs), but you may also want to weigh the benefits to your community from shopping locally. Plus, if you're a thrifty shopper, sometimes you can come across bargains in stores that you wouldn't find online.
Cut out the nonessentials. Do you really need to give that random person a gift? Can you curb the decorations around the house? Do you need a new outfit for the office soiree? Even reducing spending a little bit can save you some money.
Create your own gifts. That means you can make a tub of bath products, bake a basket of assorted cookies, paint picture frames or knit scarves. You'll keep your spending low, and recipients will likely appreciate the personal touch.
Share a skill or a gift of time. Has your grandmother been bugging you to help her set up a Facebook page? Would a neighbor prefer help with yard work or a few hours of babysitting? Does your niece want to know how you make that family soup recipe? Such gifts are creative ways to give a gift while saving some money.
Create a gift exchange. Draw names with family, friends or colleagues. Then, everyone buys a gift only for that person. You can even set a spending limit. The fewer presents you have to buy, the more money you can save. And others will likely appreciate spending less during the holidays.
Regift—appropriately. That doesn't mean giving your nephew, who doesn't have the building gene, the Lego set your son received for his birthday but never played with. You can regift, if you do so appropriately. Maybe you bought too many fancy soaps at a sale. You received a bottle of wine that is a type you don't drink. Perhaps you have an unused gift card to a candle store that your aunt would love. When regifting, be sure it won't be obvious that you're regifting and that the item is a good match for the recipient.
Monitor meal costs. Hosting a holiday dinner may be fun, but it can hike your grocery bill. Minimize costs by scaling back on your guest list. Make it a potluck or ask guests to supply the alcohol. Instead of serving a full sit-down dinner, provide just appetizers or desserts.
Resist the urge to give a gift to yourself. One for you, one for me. Yes, deals abound during the holiday season. But if you buy something for yourself whenever you buy for others, you'll definitely blow your budget. Consider "needd" versus "wants." If you really need to indulge, factor that amount into your budget.
Think about next year now. Make one of your New Year's resolutions to set aside money for holiday expenses early on. Start shopping earlier, so you have time to watch for sales, collect coupons and not have to battle the crowds.