---
by Jen Shipon
The sheer number of fertility tracking apps out there can be daunting. They range in complexity from basic period trackers to those that help women record basal body temperature and fertility treatments.
Whether you want to become pregnant or ensure that you don't, chances are one of these fertility apps will fit your needs.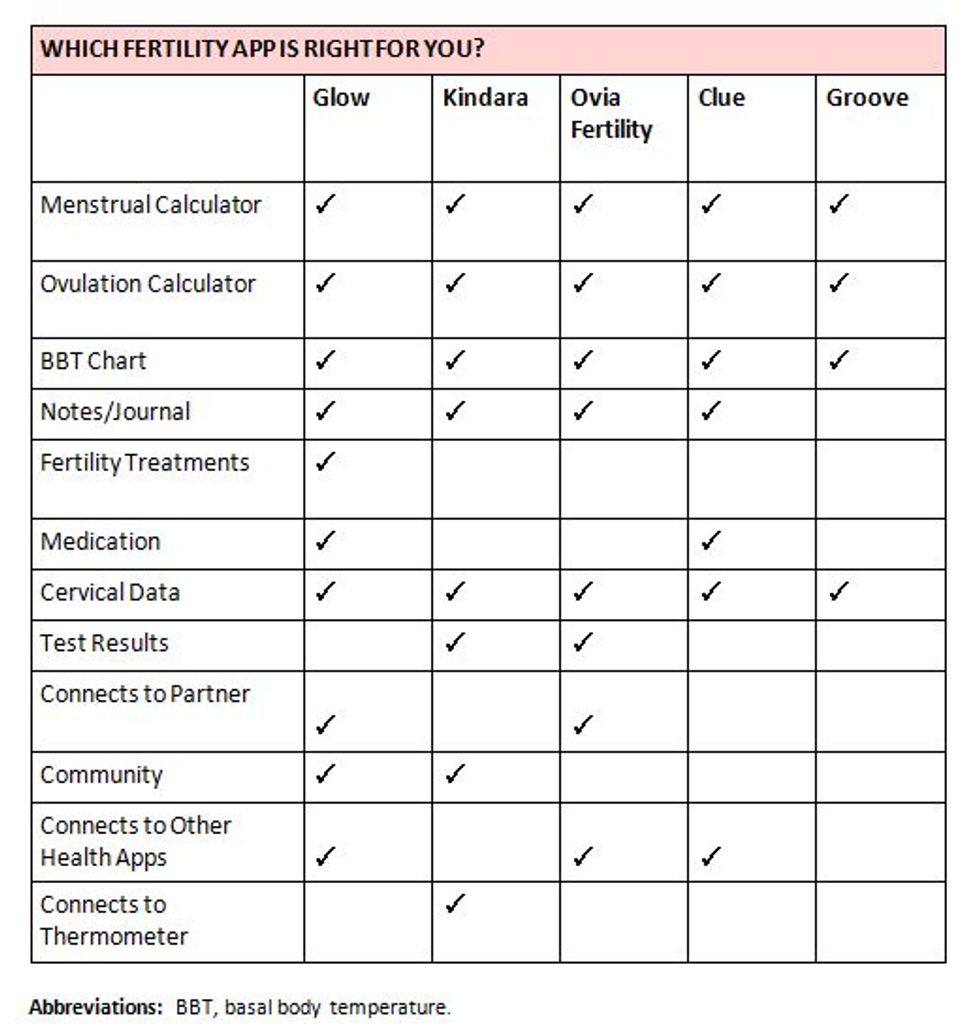 Glow
Glow is a menstrual and ovulation calculator as well as a basal body temperature (BBT) chart that records your period dates, mood, symptoms, sex and medications. It provides support for women undergoing fertility treatments like in vitro fertilization (IVF) or intrauterine insemination (IUI). A daily health log allows users to record their emotions, stress level, weight, exercise and more. Glow also offers a notes option for keeping track of important information that doesn't fit anywhere else. A particularly helpful feature is Glow First, which uses a not-for-profit crowd-funding program that offers financial assistance for fertility treatments. Glow is available on iOS and Android.
Kindara
Based on the fertility awareness method, Kindara is an ovulation calculator, BBT chart and period calendar. Users can track sex and period dates, ovulation predictions and pregnancy test results. Those looking for even more detail can record cervical height, firmness and fluid. Kindara also offers users the ability to create daily journal entries detailing whatever they think is relevant. Users have the handy option of sharing online chart access with their practitioners. Finally, Kindara offers a wireless oral fertility thermometer called Wink that syncs with the app via Bluetooth. Kindara is available on iOS and Android.
Ovia Fertility
Like the apps above, Ovia Fertility is a period tracker, ovulation calculator and BBT chart all in one. It has the ability to track moods, intercourse, cervical fluid details, blood pressure, weight, sleep and a host of other intimate details. Ovia Fertility supports women with irregular periods and syncs with the Health app. Ovia Fertility is available on iOS and Android.
Clue
Clue uses an algorithm to calculate and predict a woman's pending menstrual cycle. It offers the option to record moods, cervical fluid data, sexual activity and any other personal notes. The app also features a visual data cycle with a clear fertile window for at-a-glance planning. Clue is available on iOS and Android.
Groove
Groove is another triple threat—a menstrual and ovulation calculator along with a BBT chart. It uses a period prediction algorithm tailored to a woman's personal cycle. Users can record cervical fluid and position data as well as view cycle averages. Groove is available on iOS and Android.