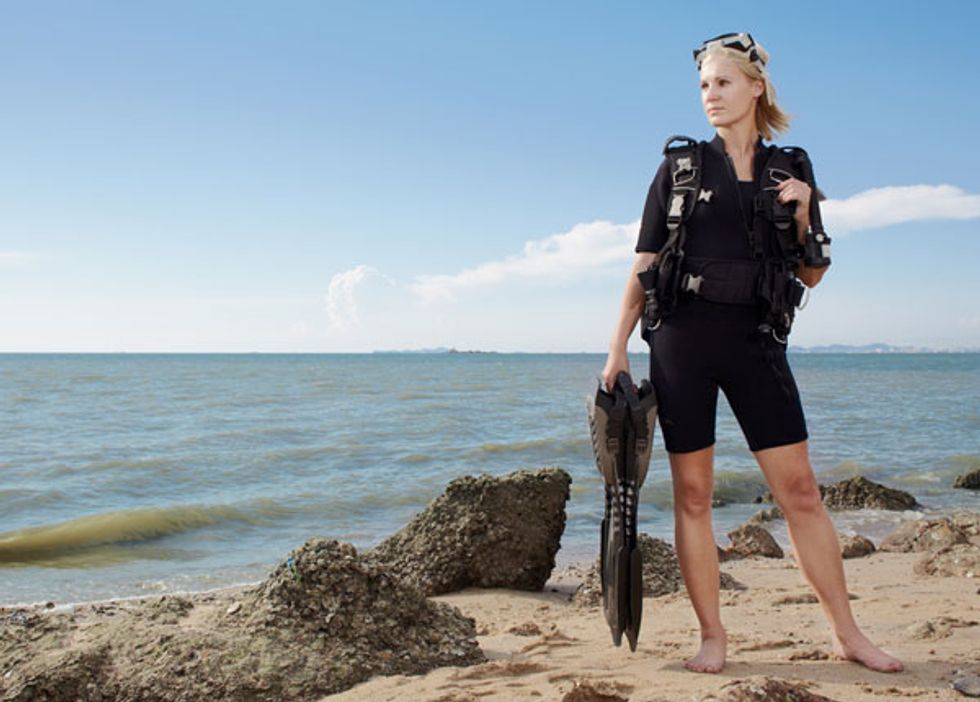 ---
by Arar Han

You're middle-aged and ready for a change. You're feeling more of a zest for the outdoors, and you're looking for an adventure. Your joints might need special care, but that doesn't mean you have to give up the thrills of youth. Choose your favorite element (land, water or air) and get your adrenaline pumping with these low-impact adventure activities.

Land
Running and hiking are traditional outdoor land activities, but you crave more excitement. These options will give you a new set of thrills.
Zorbing. Have you ever wanted to know what it's like to be a sock in a washing machine? If yes, then zorbing is for you! A zorb is a plastic ball filled with air that acts as cushioning. You climb inside, are strapped in, and are released to roll head over heels downhill. The ball will bounce and roll until it glides to a gentle stop at the bottom.
Horseback riding. If hiking has become too rough on your joints, why not let a horse be your legs? Trail rides are a whole new way to explore. You can race up hills or simply enjoy the walk from a new perspective.
Rock climbing. With its slow, controlled movements, rock climbing works your muscles without the impact on your joints. Start on indoor rock walls and then move your way to boulders and cliffs out in the wild to really connect with nature.
Water
Swimming laps can get boring. These outdoor activities will get you exploring all the water has to offer.
Scuba diving. When you slip into the water, gravity slips away. You flick your fins and glide through the water, exploring the ocean depths. Head over to the nearest scuba instruction center to get certified, and then you can enhance your vacations by taking in the underwater sights.
River tubing. On a warm summer's day, cool off by floating in an inner tube down a river. You can take a relaxing trip down a slow-moving river or take on rivers with rapids for some more action. You will spin and splash and really experience the river close up.
Cage diving. Ready for something even more extreme? Try cage diving with sharks. No scuba lessons are necessary—you can use a snorkel. You will be safely enclosed in a cage you enter from above. Meeting sharks face to face is a thrill you won't forget!
Air
Hang gliding and bungee jumping might sound fun, but the landings can be a little rough. Try these other ways to fly for the thrills without the spills.
Zip-lining. You can experience the exhilaration of the twists and turns of the forest or float gracefully over lakes and vineyards. Just strap into a harness, step off a cliff or platform and zoom along a zip-line strung high in the air.
Parasailing. Kick your time at the beach up a notch with parasailing. You are strapped into a harness attached to a parasail wing and are connected via a line to a boat. The boat takes off, and you are lifted into the air underneath the parachute. When you come back down, the water provides a soft landing. It is a fun ride with the wind rushing past and a whole new view of the water from the air.
Choose Your Own Adventure
You get to choose your own adventure—don't let your troublesome joints keep you from the adrenaline rushes you crave. No matter the element you choose, these adventure activities will spice up your life and reignite your love for the great outdoors.
About the author: Arar Han is co-CEO of Alert-One, a personal safety technology and consulting firm headquartered in Williamsport, Pennsylvania, with offices nationwide. A Certified Aging in Place Specialist, Arar holds a dual degree in philosophy and human development from Boston College, summa cum laude, and an MBA from the Stanford Graduate School of Business. Originally from Seoul, she lives in Palo Alto, Calif., with her family.