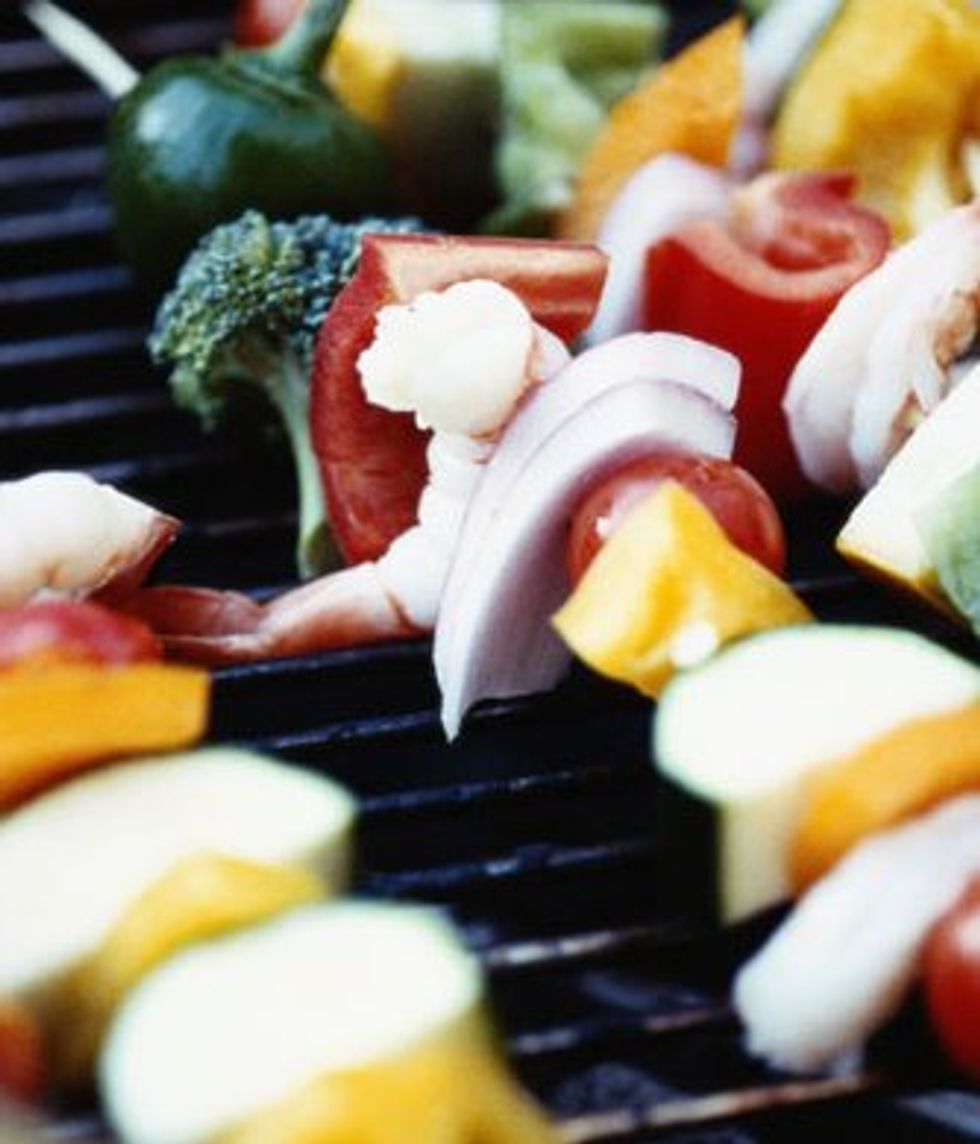 There's nothing better than a barbecue with friends and family, but traditional summer get-togethers often include a menu of hotdogs, hamburgers, potato salad and chips, which can dampen your days at the pool sporting a swimsuit. But grilling is a healthy method of cooking, so there's really no need to sacrifice flavor when cutting fat. Try these alternatives to get fewer calories and more nutrients.
---
Choose lean proteins: Replace that 600 calorie cheeseburger with a veggie burger or turkey burger. Or better yet, why not try shrimp (chicken or tofu) and veggie shish kebabs, grilled salmon or tuna as a main course (omega-3 bonus!).

Munch away: Instead of putting out bowls of chips, opt for cut up veggies and hummus instead. If you want the chips, opt for corn tortillas (with a short ingredient list) with salsa or guacamole.

Embrace veggies: Include a big salad with the meal as well as grilled veggies (try asparagus with balsamic and a bit of olive oil and sea salt). Plus, everyone loves corn on the cob (skip the butter and add some sea salt and paprika for a kick).

Smart Sides: Skip the mayo-drenched potato or macaroni salad and opt for grilled sweet potatoes with sea salt and spices (try curry), or make a whole wheat pasta salad with a bit of olive oil, balsamic and herbs (add peas, sundried tomatoes and feta cheese for a delicious combo).
A Sweet Snack: If it gets really warm out, offer company frozen grapes as a refreshing treat. For dessert, why not make a big a fruit salad. Or try this recipe:
Grilled Fruit Kabobs with Pineapple Yogurt Sauce 
Yields: 4 Servings
Ingredients:
1/2 pineapple
1/4 cup apple juice
1/2 cantaloupe
12 strawberries
2 peaches
1/4 cup nonfat plain yogurt
Mint sprigs (garnish)
Directions:
Place 1/2 cup (125 mL) of the pineapple and the apple juice into a 2-quart (2-L) saucepan. Bring to boiling, reduce heat and simmer, stirring occasionally, for 10 minutes. Set aside to cool.<
Coat a grill rack with nonstick spray. Fire up the grill and heat for 10 minutes.
Place the rack on the grill.
Thread the cantaloupe, strawberries, peaches and any remaining pineapple chunks onto four 16-inch (40-cm) skewers and place on the grill. Heat for 2 minutes; turn and heat 2 minutes.
Meanwhile, place the cooked pineapple-apple juice mixture and yogurt in a blender.
Process on low until blended. Transfer to a serving dish and garnish with the mint.
Recipe complements of Prevention.com
What are your BBQ favorites? Please share below.