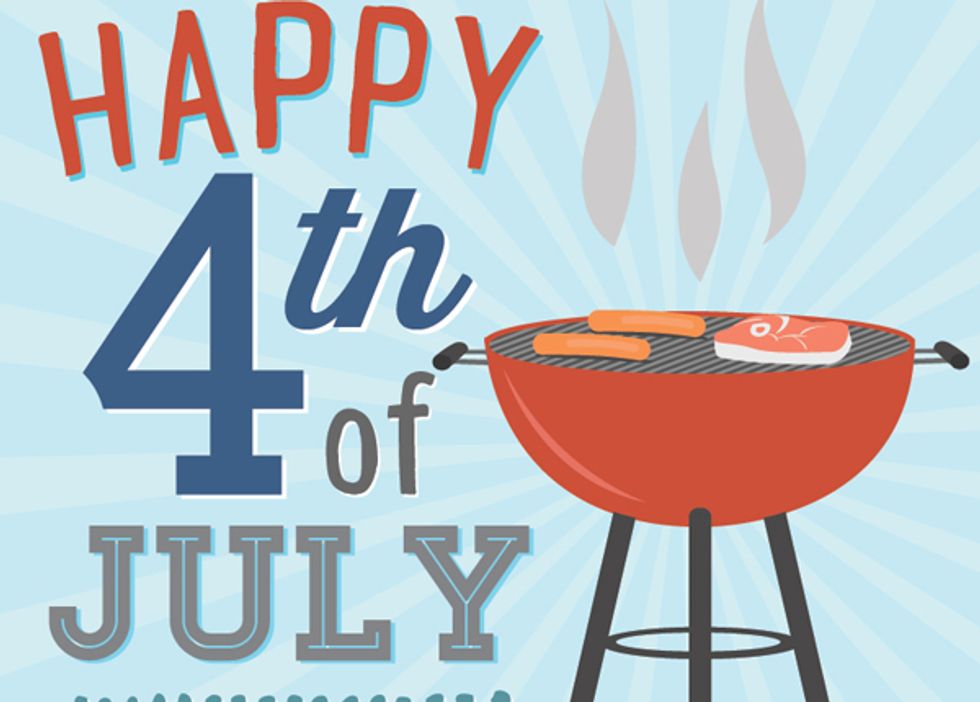 ---
It seems harmless enough: a scoop here, a nibble there, a handful of this and a few of those.
But if you're trying to stay healthy this Fourth of July weekend, the average summer barbecue can leave you feeling less than celebratory.
However, barbecues don't have to be unhealthy. There is hope for healthy outdoor meals, especially if you watch the sauces and side dishes and stay away from the chips and dips. Simple steps can make a difference, whether you're grilling for a crowd or bringing a side dish this Independence Day.
"Swapping simple alternatives to traditional classic dishes can mean the difference between enjoying yourself all weekend long or feeling lousy after overdoing it on one day," says Bonnie Taub-Dix, MA, RD, CDN, a New York-based nutrition and diet expert. With millions of Americans enjoying a long weekend and some extending the weekend into a full-blown vacation, moderation is the key, saysTaub-Dix.
Here are HealthyWomen's top five foods to avoid and suggested alternatives:
1. If you can hold it in your hand, it might stick to your hips.
Summer barbecues don't have to be about sausage, ribs and chicken drumsticks. Go for foods that require a knife and fork. Generally speaking if your meat is considered "portable," it's probably not good for you! Grilling fish and lean cuts of meat like chicken breasts, pork loin and even filet mignon gives diners the delicious, smoky, char-grilled taste synonymous with cooking outdoors—just be sure to skip the heavy sauces and sugary marinades.
2. Leave the "white" out of your red, white and blue.
Side salads that are "white" from mayonnaise are best avoided. A combination of sweet and red bliss potatoes and macaroni salad made with whole-grain pasta and crunchy vegetables like shredded carrots, colorful bell peppers and fresh parsley add more color and flavor than traditional side salads. Dress with light mayonnaise or olive oil mayo instead of the regular, full-fat counterpart or hold the mayo altogether and substitute nonfat or low-fat Greek yogurt or a dressing of diluted vinegar, fresh herbs and a taste of honey.
3. Watch your buns.
Hamburger buns, that is. If you must serve burgers and dogs, whole-grain buns pack more nutritional punch than the overly processed and refined white-flour buns. White-flour products have been stripped of beneficial nutrients like fiber which help regulate our digestive system and keep us feeling full longer. Slip in a turkey burger or a chicken sausage and your taste buds won't know what hit them.
4. Keep the cooler light.
Skip sugary sodas, punches and sports drinks, and be mindful of regular beer, wine and cocktails. You'll be a healthy hero and impressive host if you take the time to make and serve unsweetened iced tea or homemade lemonade. Too plain or too tart? Add a splash of fruit juice or mint for a fresh taste. Serve white or red wine sangria with fresh fruit for a light and refreshing alternative to plain wine or to sugary mixed drinks; adding carbonated water and ice helps keep the calories down and the fresh fruit adds some nutritional benefits. And, no matter what he says, a light beer is not only lighter in calories but is often a welcomed alternative to a lager on hot, humid days. Last but not least, keep a pitcher or dispenser filled with ice water and topped with lemon slices or fresh mint or cucumbers. It will surely be a hit with all ages, and those who are drinking alcoholic beverages can alternate with water.
5. Spice up your dessert.
Almost everyone loves a bowl of fresh berries at barbecues, but how about grilling some fresh peaches, pineapple or other tropical fruit? Even melons work! Coat it with lightly with spray oil or olive oil and a dash of seasoning, such as vanilla, white pepper, cinnamon or nutmeg. This exotic treat is simple to make, guaranteed not to melt and will be a welcome and refreshing treat that's easy on the waistline.
Choice is everything, says Elizabeth Battaglino Cahill, RN, executive director for HealthyWomen. "Knowing healthy alternatives to traditional favorites is the key to staying healthy during any holiday season," she says. "If those choices are not available to you or the meal is out of your control, try small portions or a taste of everything so your entire plate equals one complete portion, not multiple portions of everything on the menu."