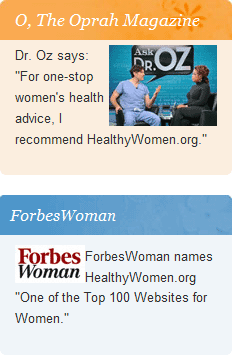 Advertising Policy and Guidelines

To further HealthyWomen's purpose and goal of providing accurate, unbiased health and wellness information to all women, we accept advertising in the form of banner and text-link awareness campaigns on HealthyWomen.org and in our e-newsletters. We reserve the right to refuse any advertising or messaging that we believe is incompatible with our mission. The presence of paid display banner awareness campaigns on our site or in our e-newsletters does not imply endorsement of the advertiser or its products/services. Advertisers who pay for display banners or links will not reference this relationship with HealthyWomen as suggestive of any endorsement by HealthyWomen of any product or as proof of the efficacy or success of any products, goods or services of the advertiser company. Advertiser messaging may also appear in our e-newsletters under the same guidelines.

HealthyWomen maintains a distinct separation between advertiser messaging and the editorial content of its publications and newsletters. HealthyWomen's posting of an advertiser's banners or text-links in the publications or e-newsletters of HealthyWomen is not intended to be an endorsement of the products or services of the advertiser company. HealthyWomen strives to include as advertisers those companies whose products and services further the mission of HealthyWomen to make wellness information more available to women. 

The following types of paid advertiser banner awareness campaigns may be allowed by HealthyWomen:
---
Corporate image advertising or corporate advertising
Prescription drugs and over-the-counter medications approved by the Food and Drug Administration
Nonmedical or non-health-related consumer products and services
Consumer products with a potential health connection
Fitness products or services
Medical products, devices, or services (including insurance providers)
Health care services (clinics, hospitals, procedures) — national promotion (geo-targeting is not offered)
Pharmacies (retail and online — VIPPS program compliant only for online)
Advertising formats that are prohibited by HealthyWomen include:
Pop-ups and floating displays or surveys
Displays that have forms within them to collect personally identifiable information while a visitor is on HealthyWomen.org.
The following criteria must be met:
Advertiser must not make a health claim for its product that is not clearly substantiated. Advertiser may be required to submit supporting documentation to substantiate claims.
No implication of endorsement by HealthyWomen of product or advertiser may be made.
HealthyWomen retains final approval of all advertiser product/service messages, banners, and copy.
HealthyWomen reserves the right to reject, cancel, or remove at any time any advertiser's banner from HealthyWomen.org or its e-newsletters for any reason. In such a case, HealthyWomen will provide prompt notice to the advertiser, together with an explanation.
These guidelines are intended to provide general guidance. They are not inclusive or exhaustive and are subject to change at the discretion of HealthyWomen at any time.