Warning: This blog post may make you hungry!
---
My stomach was empty as I entered the Jacob Javits Center in June for my walkabout—or should I say drink-and-eat-about—at the 2019 Fancy Food Show. It's an annual trade show put on by the Specialty Food Association (SFA) for food buyers. I was wearing my media badge, searching out new wellness food trends that my post 50 female readers might find of interest.
Eating Parmesan cheese is always a high point for me at the Fancy Food Show.
A race to the finish line
I zigged and zagged my way through two floors of exhibits, tasting, sipping and sometimes deeply engaging as I savored each morsel, especially each morsel of dark chocolate. Ooh, ooh, ooh, I also could not resist multiple bites of Parmesan cheese cut from the wheel and multiple pieces of ciabatta made with Molino Vigevano authentic Italian bread flour. I left my gluten-free diet at home for the day.
Big market for specialty foods and beverages
According to the SFA 2019-2020 Report, specialty foods and beverages hit $148.7 billion in sales in 2018. Wow-o-wow, that's a lot of dollars. From what I could tell as I walked the floor, growth is definitely coming from functional beverages. Wait until I tell you about the 20+ beverages I consumed. I should be glowing with all the collagen I put in my body.
As for purchasing any of these products, I recommend you check Amazon, Whole Foods, Trader Joe's and your local supermarket. Some of the companies sell their products online direct to consumers as well.
Trendspotting wellness food trends
I always enjoy seeing if I can spot the trends like the SFA Trendspotter Panel. Here's what's on their radar:
Specialty waters are the top category forecast to grow over the next five years. Did I say that functional beverages are trending? I'm spot on!

Jerky and meat snacks are poised for growth. I skipped the meat snacks, but I did try the No-Evil pastrami plant-based jerky. It wasn't like real pastrami, which I will likely never eat again because of my already high cholesterol, but I can see how some hungry guys like my son D or boyfriend L might like it.

Vegetable-based carb substitutes are on the rise. Last year it was cauliflower pizza. This year I tried Spinato's broccoli crusted pizza.

Plant-based snacks and dairy alternatives are expected to continue their reign. I was eager to try Good Planet cheeses, a plant-based cheese, but the pizzas were still in the oven when I arrived at the booth. 

African foods continue to gain popularity, especially the condiments popular in Ghana and throughout West Africa. 

Convenient, single-serve packaging is trending. There were plenty of smaller packages of dried fruits, protein bars and rice cakes for snacking.

Functional foods and beverages with health attributes are a priority. Yep, high on my list.

Mission-driven companies powered by environmental and social concerns were visible. For example, I liked the Sindyanna of Galilee Extra Hopeful Olive Oil and Happier Honey, which are produced collaboratively by Arab and Israeli women.
Drink to good health with wellness beverages
It was a beverage bonanza at the show. From probiotics to vitamin waters, caffeine-free to caffeine renewal, collagen boosters to botanical brews, I tried them all and more.
Kombucha
I'm a big fan of GT'S Kombucha. GT Dave and his family were intrigued by this fizzy, fermented tea's ancient healing properties and decided to brew their own batches.
In late 1994, GT's mom was diagnosed with a highly aggressive form of breast cancer. When she healed, she shared with doctors that she had been drinking a very pungent, homemade tea. The tea was GT's Kombucha. Their kombucha was the first on shelves in the U.S. Read more about Is Kombucha Good for You?
Kombucha has a unique taste, almost vinegar-like with living probiotics, amino acids, polyphenols and active enzymes. Now GT'S also offers other functional beverages including Dream Catcher sparkling wellness waters with premium hemp-derived CBD and gentle caffeine. This refreshing drink says it offers calm, focused energy to help you #LiveYourDream. I noticed a few beverages that offered caffeine for energy with a supplement for calm—an interesting combination.
Plant based creamers and milks
Laird Superfood Creamers are dairy-free powdered coconut-based blends to add to coffee, tea, smoothies and other foods for an energy boost. The Forager Project organic plant-based creamery sells Coconut Cashew Milk and Organic Dairy-free Half & Half, along with other dairy-free products. Mooala is an organic brand that makes almond milk and flavored dairy-free and nut-free banana milk.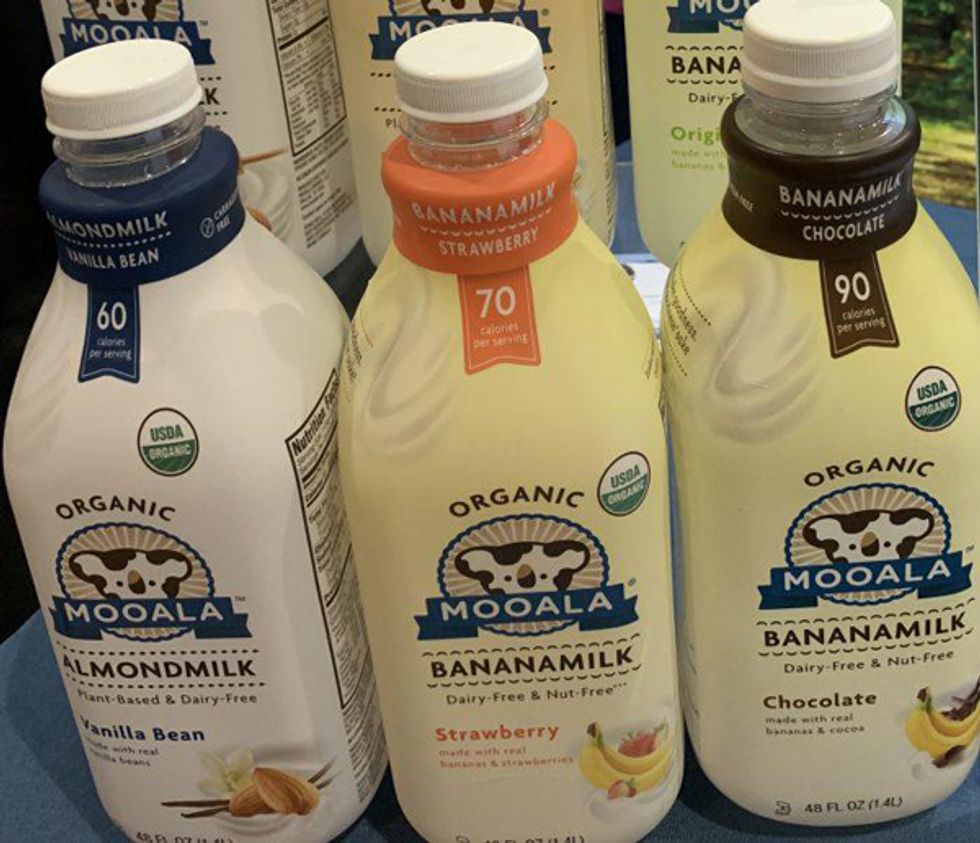 Collagen drinks and powders
I tried Glow Water + Hydrolyzed Collagen, Reneva Collagen Protein Drink and grabbed a packet of Primal Kitchen Collagen Protein Powder to add to an at-home smoothie. Jus by Julie makes Booster Shots called Collagen Beet Rejuvenate with fish collagen. She says there is no fishy smell or taste. (Note: This link is to Jus but the Beet product may not be available yet.)
The Glow team says that collagen is the most abundant protein in the body and a major building block for the skin, bones, muscles, cartilage, tendons and ligaments. I've use collagen-infused beauty creams on my face but never thought of drinking collagen. Glow says that hydrolyzed collagen is clinically proven to support hair, skin, nail and joint health and helps reverse signs of aging and photodamage. Definitely going to check out these collagen drinks in more detail for my post-50 body.
Soothing teas 
I sipped some pretty teas made with Rishi Tea & Botanicals. The hostess mixed the beautifying herb Blue Butterfly Pea Flower Powder in deep purple with new Mulberry Mangosteen Hibiscus Powder with a pink hue. The colors were so vibrant.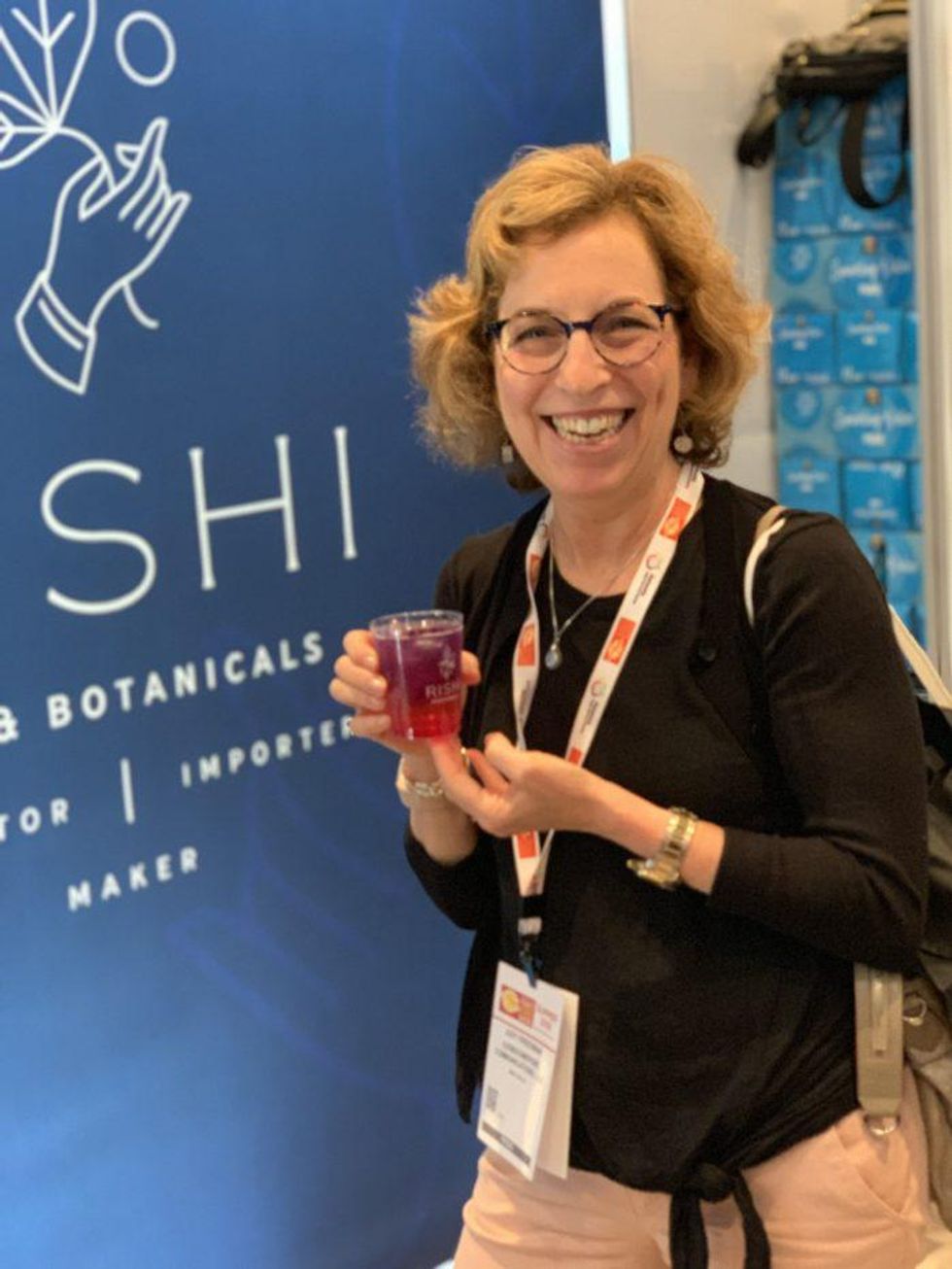 Rishi botanicals added to water made the beverages vibrant in color.
Twinings is adding more wellness teas including Glow Nettle for healthy skin, Focus Ginseng to support mental focus, Nourish Beetroot for heart health and Comfort Tumeric to support joints. (Note: These new teas are not on the market yet.)
I was equally curious about Good Nature Medicinal Teas which are designated as herbal dietary supplements. The company sells different varieties to promote healthy blood sugar, blood pressure and cholesterol. I wish I could just drink a cup of tea every morning to lower my LDL instead of giving myself Pradulent shots. It would be so much easier and maybe have fewer side effects.
Specialty waters
There were so many waters. Phocus Sparkling Water says they have "nothing bad, so you can Phocus on the good." Its fruit and vegetable flavored waters contain 75 mg of caffeine derived from green tea (equivalent to an 8-ounce cup of coffee) and L-theanine, a natural anxiety-reducing amino acid, that works with caffeine to ensure a smooth, steady, jitter-free boost. Seems those who are stressed need a boost, as well as relaxation from the high. Learn more about foods that help you de-stress.
GoLive Probiotic Water promotes gut health. It comes in ready-to-drink bottles and drink blends to add to water. There are 15 probiotic strains in all GoLive products.
Treo Fruit & Birch Water is caffeine free and contains electrolytes, minerals and antioxidants. It's sweetness comes from the organic birch water and natural sweeteners. If you prefer maple tree water, you might like Sap on Tap. There are three flavors with different benefits, Recover, Replenish and Natural Energy.
For those who desire premium functional hydration, you'll want to opt for Recover 180. It contains three times the electrolytes, half the calories and a third of the sugar than regular hydration drinks.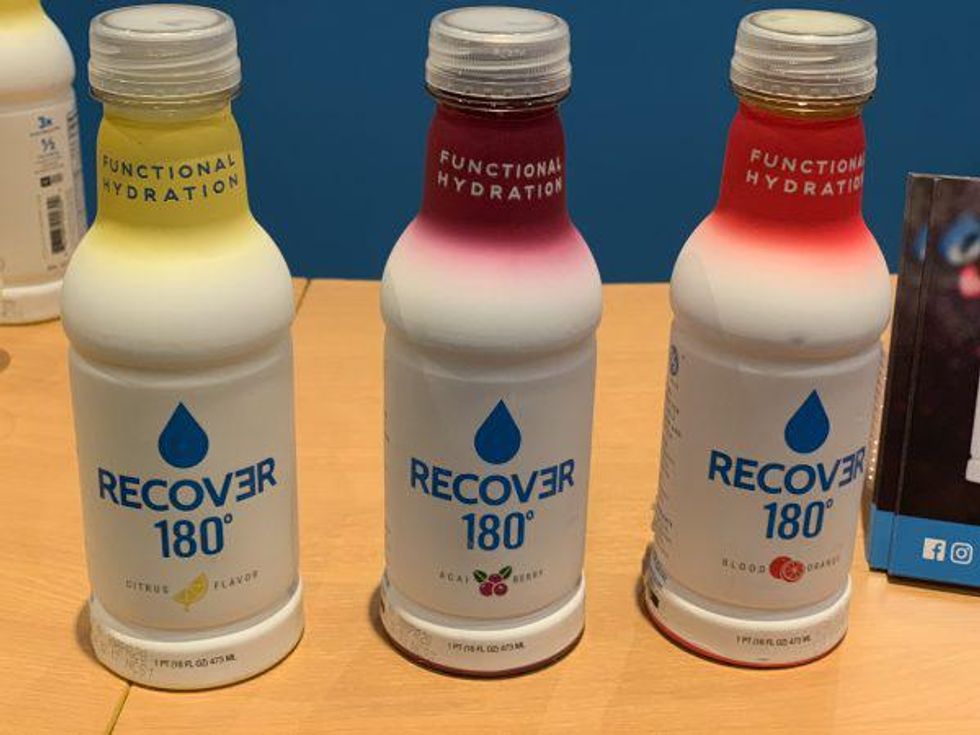 Recover 180 is loaded with electrolytes.
According to Indicoco, coconut water has been dubbed the "Fluid of Life," and Hawaiians call it "dew from heavens." They say that coconut water IV therapy has been in use for more than 60 years. Really? They say due to its sterile properties, coconut water has been used as a blood plasma substitute. Really?
If you like your coconut water with a pink hue, I suggest you try NutriVsta Natural Coconut Water. It comes from young Thai coconuts, which have light pink meat.
O.Vine Alcohol Free Wine Essence Water is refreshing served chilled and contains hidden antioxidants from the grapes used to make the wine water. It reminded me when I was in Sicily a few weeks ago and some of the Austrians on our tour added water to their wine. They said it is a popular drink in Austria.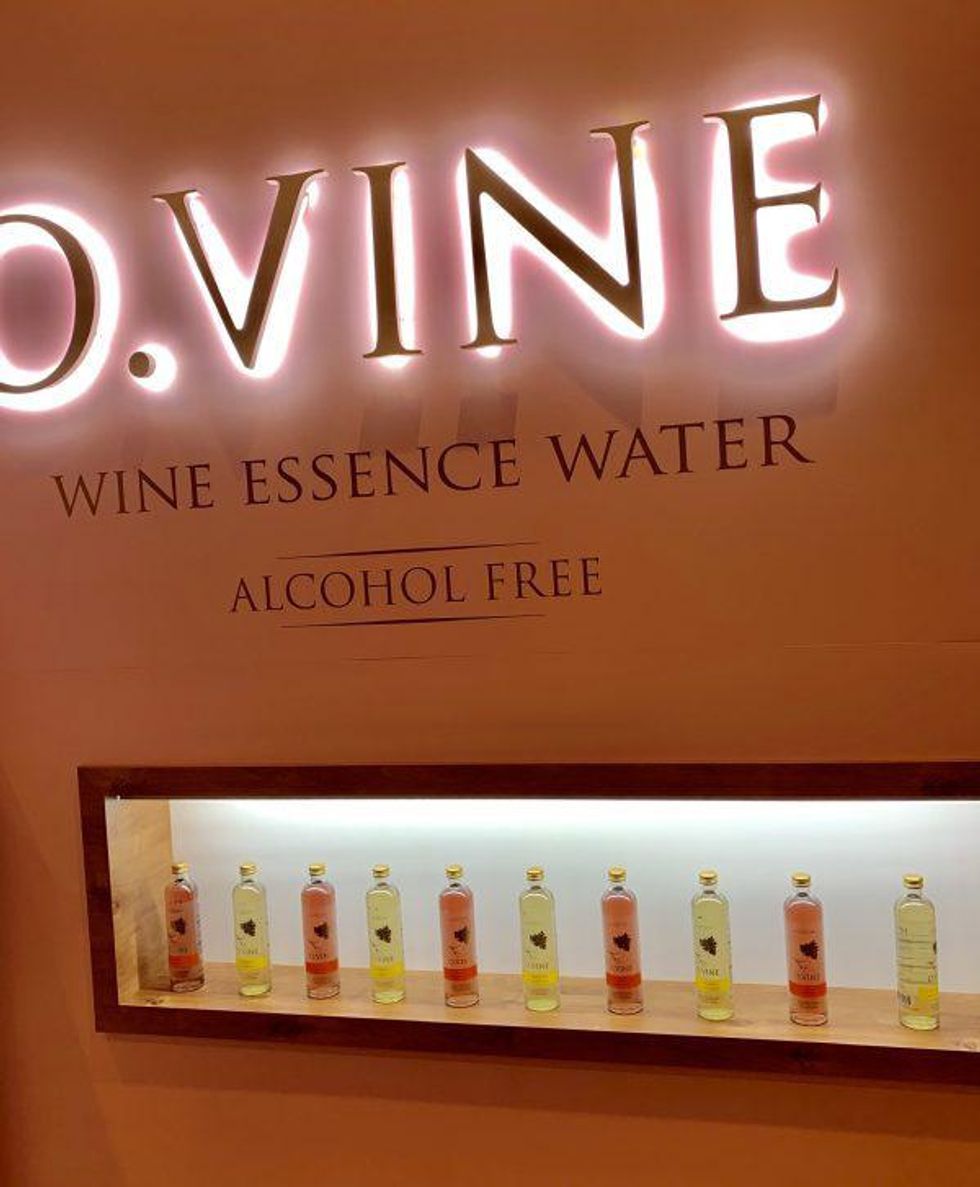 O'Vine Wine Essence Water provides a nonalcoholic alternative.
Holistic juices 
Natalie's Orchid Island Juice Co., known for its authentic fruit juices, premiered a new line of holistic juices with names like Purify, to help reduce inflammation and improve digestion; Relax, made with chamomile to calm the mind; Resilient, with an immune-boosting blend of elderberry, tumeric, ginger and vitamin C–packed blood oranges; and Aura, containing the medicinal herb ashwagandha.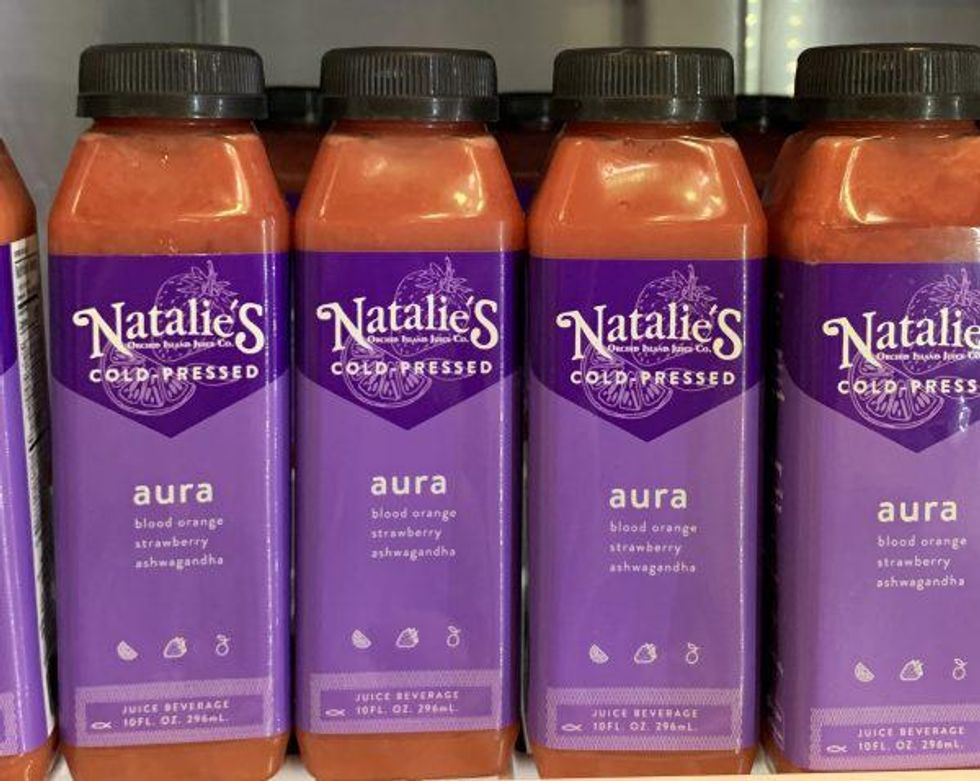 Natalie's introduced holistic juices with different wellness properties.
I picked up a sample of Brain Juice. This liquid dietary supplement is in a shot bottle and is supposed to help your brain with focus, clarity, memory and mood. Wonder if this miracle boost will help my menopausal memory?
New ways to get your fruits and veggies
I'm big on fruits and veggies so I found the following products to my liking:
RIND sun-dried super fruits with the peel; Bloom Fresh Golden Berries to add to salads or for a pop in your mouth snack; Wild Joy Good Banana Jerky, great alternative to meat jerky; Hamona coconuts that come with a natural puncture point to insert a drinking straw; Date Lady products filled with the natural sweetness of dates; Otamot tomato sauce made with 10 veggies and 15 vitamins and minerals.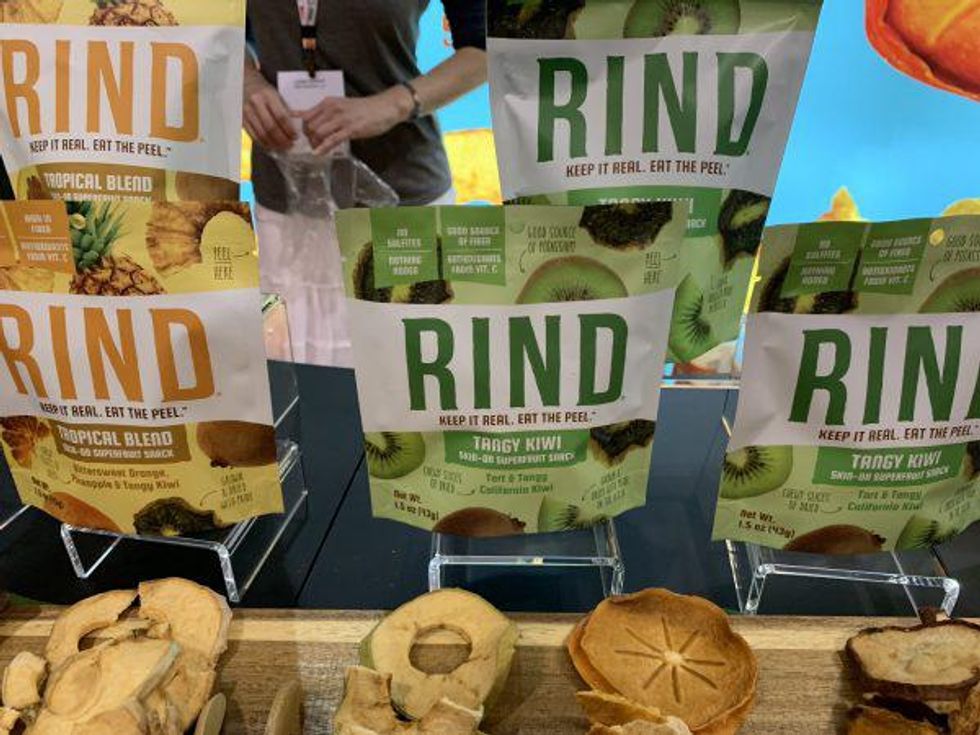 RIND dried fruits include the skins.
Add flavor with condiments and seasonings
The packaging of upscale condiments and seasonings caught my eye as did the flavorings such as: Grenadine Wild Sea Salt; Bella Cucina Artful Food Key Lime Spread and Aromatic Savory Salts; ILA collection of olive oils and seasonings; Ghee on the Go in individual packets; SoulBee Superfood Honey Flakes, Powder and Ginger Honey; Avonnaise vegan mayo made with avocado; and Bona Futura oils and salts from a farm in Sicily.
Bona Furtuna products are made in Sicily.
Want to go on the keto diet?
If you have any interest in trying the keto diet, there are many high-fat, low-carb products on the market. Healthline says the keto diet is a low-carb, high-fat diet. It lowers blood sugar and insulin levels and shifts the body's metabolism away from carbs and toward fat and ketones. Definitely check with your health care professional or dietitian if you plan to go on the keto diet. Read more about the safety of the keto diet.
Here are some examples of keto products: Kiss My Keto Ketogenic Original Dark Chocolate has 13 grams of fat, 2 g net carbs and 0 g sugar; Fat Snax Cookies are low-carb, keto and sugar free; Keto Pint ketogenic ice cream with no sugar added and 3 g net carbs per serving.
Need a protein fix?
I'm amazed at how many people I know eat protein bars for breakfast. I'm so lucky to have time to make quick-cooking steel cooked oats each morning. For those of you on-the-go here are some new protein bars to try; most are gluten-free: The Protein Ball Co. Breakfast Oat Balls; WOLO Protein WanderBar with 15 grams protein; Jonesbar real food bars; Bob's Red Mill Better Bars made with oats.
Americans like their snacks
Let's face it, Americans like to snack, and those who are gluten-free have more choices than ever. Here are some snacks I noticed: Unamis Crunchy Snack Mushrooms dried and ready-to-eat (not my favorite tasting snack but quite interesting); Activated Superfood Popcorn; Grab and Go Chickpeas; Safely Delicious Allergy-Friendly Snacks; Popart Popcorn; and The Saucy Ladies Kettle Chips (not nutritious but quite delicious and made by a boomer woman).
Sweet endings with ice cream and chocolate
I saved the best for last—ice cream and chocolate! Those two categories did me in, especially all the dark chocolate I consumed.
First, let me tell you about the ice creams: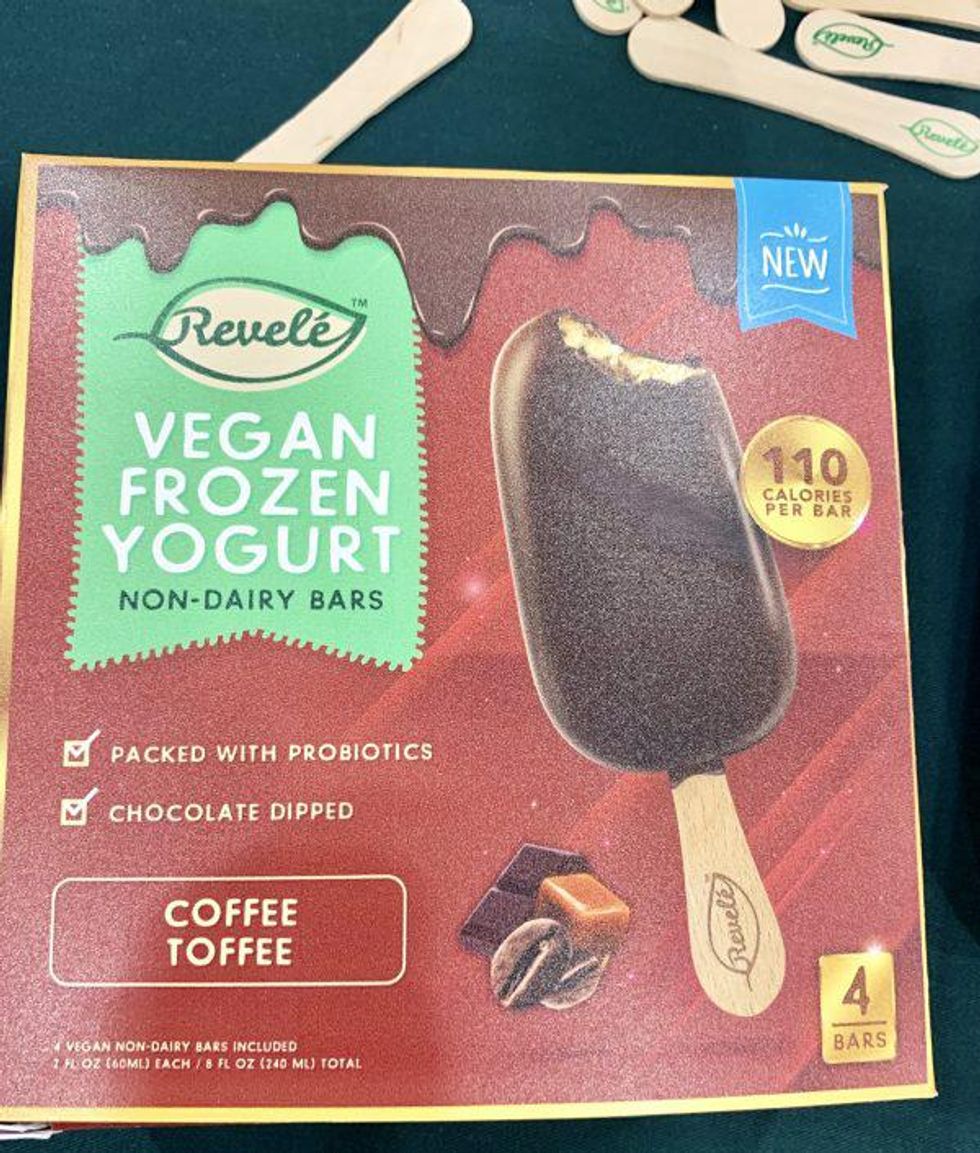 These frozen yogurt pops are good for vegans.
Ooh, ooh, ooh, each bite of dark chocolate was irresistible, simply irresistible. I couldn't stop eating some of these sweets: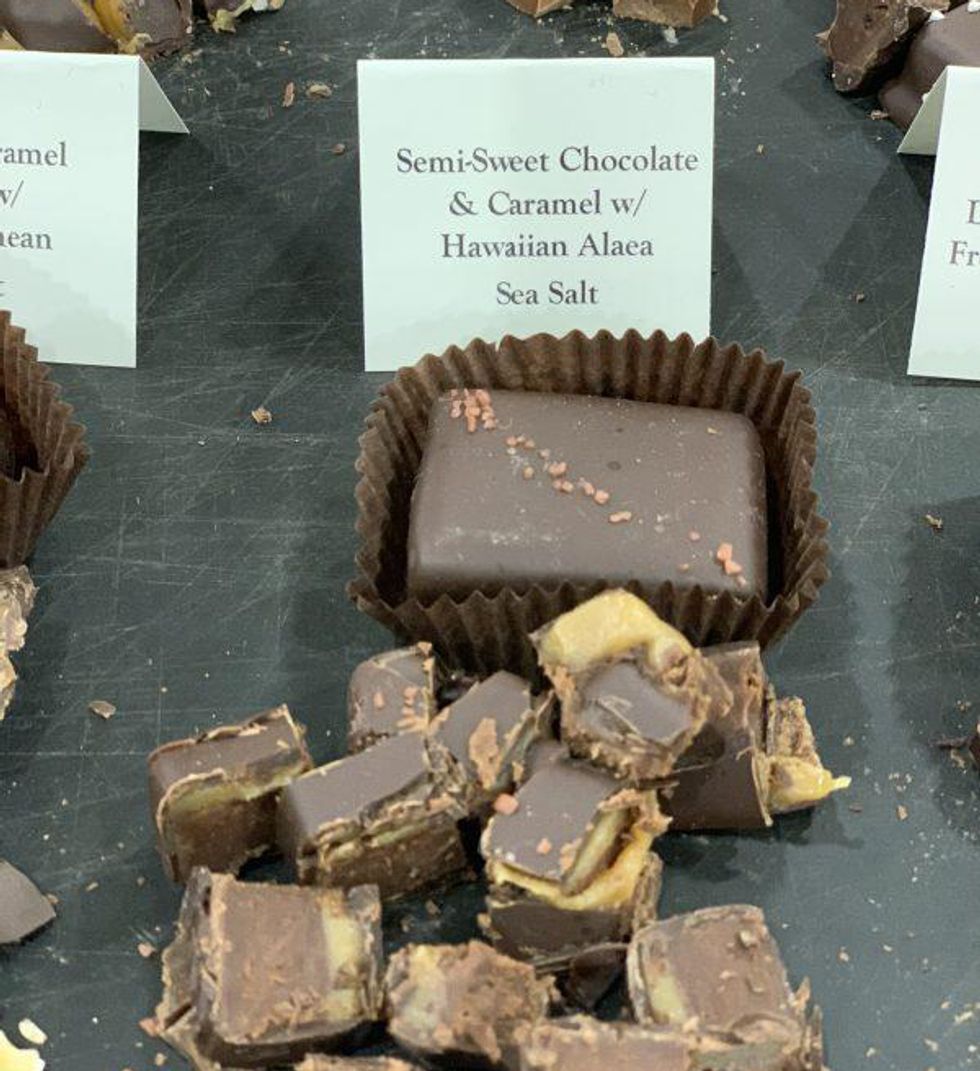 I couldn't stop eating these John Kelly semi-sweet chocolates.
CBD-enhanced food products
On a final note, I could not address wellness trends without mentioning CBD-enhanced food products. There were only a few exhibitors I noticed with CBD-enhanced beverages, nut butters, honey and oils, but I'm sure edibles made with CBD will become more abundant in the near future.
CBD is being added to a variety of foods.
This post originally appeared on aboomerslifeafter50.com.