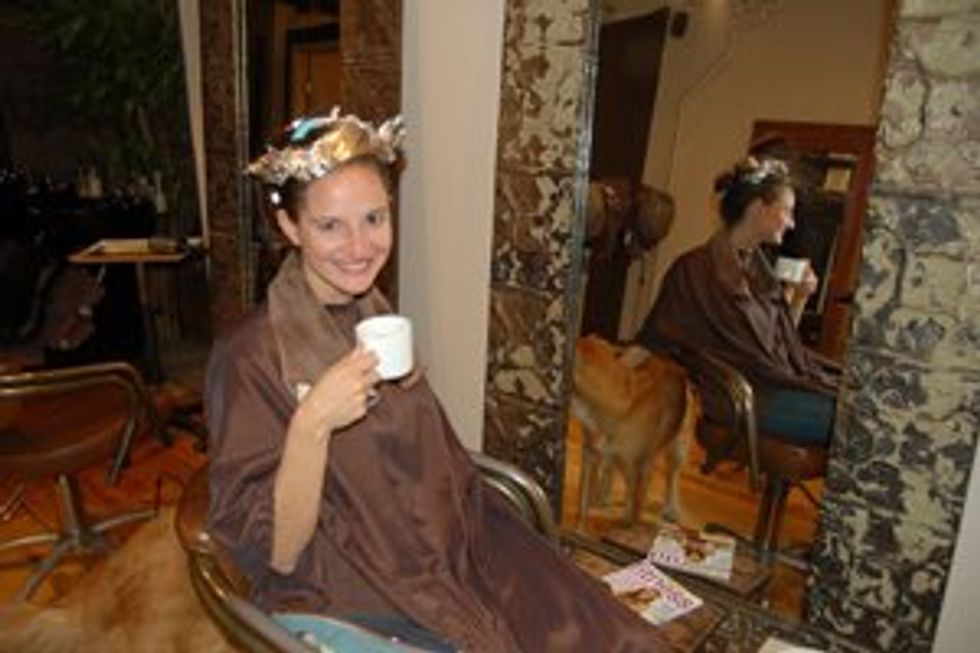 Call me old-fashioned, but I love going to the salon to get my hair done. However, being a health editor, it's hard for me to ignore the chemical smell of coloring and other products that I'm inhaling. Currently, there are 30 carcinogens and 20 hidden carcinogens (ingredients that are safe at face value but break down into harmful substances) commonly used in salon products, according to a recent article on Rodale.com, which says, "When you walk out of a salon with a well-styled head of hair, odds are you're also leaving with lungs full of carcinogenic toxins and a body exposed to hormone-altering chemicals." But not at John Masters Organics clean air salon in NYC, where even the blow dryers run on wind energy.

John Masters' philosophy? "Caring about yourself and caring about the earth don't have to be mutually exclusive."

All hair-coloring products used in the salon are ammonia-free herbal and clay-based products. Plus, they don't offer any other chemical services like perms, relaxers, bleaches, all of which come along with lots of chemicals and awful odors. Like their website says, "You can truly smell the difference."

But how are the services you ask? Well, after an afternoon spent breathing in clean air, getting my hair styled and colored by the superb stylist Amanda Cuzzacrea, and chatting with the fun and fantastic John Masters, I'm in love. Tell your pregnant friends and anyone else in NYC wanting to limit their toxic chemical intake and get a fabulous hairdo at the same time, this is the place to go.

My cut is great; I've always struggled with lifeless straight hair, but Amanda gave me a cut that has plenty of texture and style. And she gave me some helpful styling tips as well. Watch the video on our Beauty Blog (plus, see before and after shots of my do).

The color? I was more hesitant about this. I went in with no color in my hair, mostly because I haven't wanted to expose myself to all those stinky chemicals. But I've finally got the change I was craving: It's subtle and natural-looking while brightening up my entire face (and stink-free!).

And it's no surprise that John Masters Organics products have won numerous awards (from almost every magazine you've every heard of). Some of the simple but effective mixtures were created years ago in John's kitchen and remain on (or flying off) the shelves today. I particularly love the "Shine On" leave-in treatment that uses organic kelp in place of synthetic silicone. It makes my hair shiny and soft without weighing it down (which is rare for my straight, fine hair). I've also been using his shampoo and conditioner, and a week later, my hair still feels as soft and silky as I did when leaving the salon.

A big thank you to John and his team, not only for a great haircut, but also for setting such a great example: Be stylish and smart.