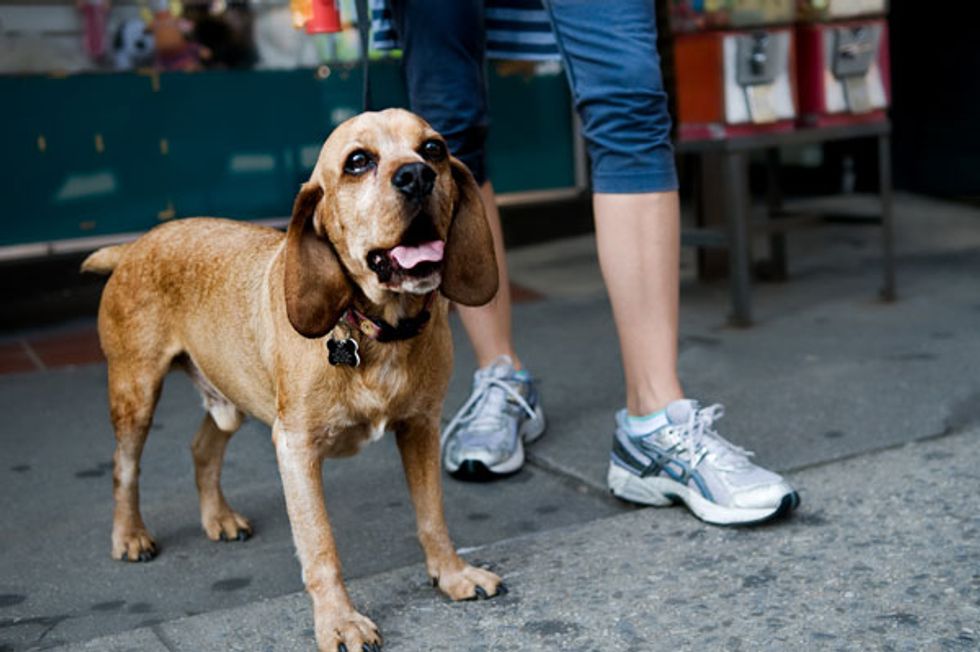 In celebration of experimentation, I decided to do something today that I've never done before. I took my dog Bailey out for a jog. I'm not sure why I hadn't tried it previously, I guess I was always worried that he would stop to go to the bathroom a thousand times, or sniff other dogs, or explore unusual scents (I do live in New York City where distractions are easy to come by!). And, you know what? He did all those things, but he also did pretty well jogging too!

OK, so maybe he stopped every time we passed an alluring tree to mark his spot upon or a taunting squirrel or bird and, of course, when he saw fellow dog joggers (he was so confused as to why they wouldn't play with him), but otherwise, he kept a pretty good pace and seemed to enjoy it. We stopped after about 15 minutes and walked the rest of the way, I didn't want to overdo it on his first time out. Now, after a rewarding treat, he is happily snoozing under my feet and I've got some useful tips to share with you.

If you want to try jogging with your pup, I would advise asking your vet if your dog is in good health for running, and for recommended jogging times that consider your pet's specific needs. Here are few things that I learned about taking your dog for a run: 1) Take him (or her) for a long walk upon leaving your home, so that he can do most of his business before attempting a jog. I got about four feet when Bailey pulled me off the sidewalk to a tree. This is also a good warm up for you and your pup. 2) Hold the leash so that your dog is right next to you, which will allow you to keep him out of the way of distractions and passerbys. 3) Try to find a path with the least distractions, maybe one with a wide paved area that isn't surrounded by too many tempting plants. 4) Try to jog during cool weather, or after the sun goes down. Bailey was much happier in shady areas. Bring water for you both on warmer days. 5) Have fun. Instead of losing your patience, laugh at your dog's little habits and curiosities. Also, pay attention to his signals, because he may be telling you that he needs a break. Only practice will make the process easier for both you and your dog.

Even though it wasn't perfect, it was a good start and at least we got out there, which is the first step to trying any new thing. Bailey taught me a few things about starting a new fitness routine, whether it's with your dog or on your own:
Start slow
Have patience
Take breaks
Stay hydrated
Say hi to fellow exercisers
Reward yourself
And most of all, be curious! That's how we discover new wellness practices, by exploring those curiosities.

Please share your tips if you've got some—maybe it will make our second attempt a bit smoother.