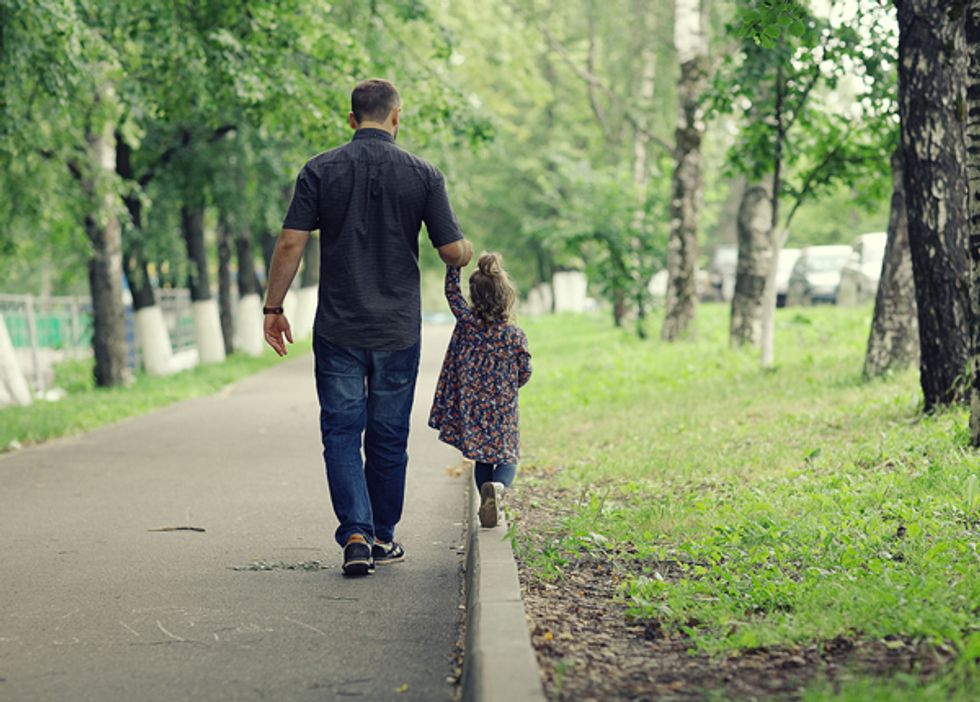 ---

TUESDAY, July 21, 2015 (HealthDay News) -- Dads-to-be take heed: The so-called "fatherhood effect" means that first-time fathers will likely have a growing waistline to go with their growing family, a new study finds.
The findings stem from what the study authors call one of the first research projects to look at how fatherhood affects weight. The conclusion: men gain an average of between 3.5 to 4.5 pounds after the birth of their first child.
And you thought it was just mothers who had to deal with unwanted baby weight.
"We know becoming a dad is a time when men's priorities and responsibilities change," said study lead author Dr. Craig Garfield, an associate professor in the department of pediatrics and medical social sciences at the Northwestern University Feinberg School of Medicine in Chicago. "More dads are more involved with their children than ever before."
"Now, we were not able in this study to determine the cause of the increase in BMI [body mass index] or weight," Garfield added. "But I speculate that it is changes in lifestyle that may be the cause. New eating habits, different foods and portions in the house, sleep changes, less time for exercise and activity perhaps may be part of the issue."
Garfield and his colleagues reported their findings in the July 21 issue of the American Journal of Men's Health.
To explore weight gain among new dads, the study team analyzed male weight gain patterns with information gathered by the National Longitudinal Study of Adolescent Health. The review covered roughly 20 years and tracked more than 10,000 American men as they aged from adolescence (starting in 1994) to their early 30s, at which point many had become new fathers.
The researchers determined that becoming a dad for the first time was associated with a measureable increase in weight, whether they lived with the child or not. The finding held up even after the researchers accounted for potential influences such as a man's age, marital status, income, educational history, sedentary habits (such as TV watching or computer use), and daily activity routines.
First-time dads standing 6 feet tall were found to gain about 4.4 pounds if they lived with their child, and 3.3 pounds if they didn't live with their child.
Conversely, men who didn't become fathers during the study period experienced a weight loss of 1.4 pounds, the study authors said.
Garfield said the findings clearly indicate that "becoming a father affects men's health."
So what can a new father do to avoid the prospect of the dreaded "dad bod"?
"It is important for dads to realize they are role models for their children," Garfield said. "So if a dad is looking to get out and shed a few pounds, take your child with you. Show them how much you enjoy being active. Show them how to make good diet and nutrition choices as you go out in the world. Dads and children can get healthier together."
That advice was seconded by Lona Sandon, a registered dietitian and assistant professor of clinical nutrition at the University of Texas Southwestern Medical Center at Dallas.
"Major life events that carry with them new responsibilities, new habits and new schedules are often associated with weight gain," she noted. "That can mean marriage, having kids, the stress of taking care of an elderly parent, or the stress of losing a job in midlife."
"So if that means that a man finds himself becoming less active, then he should try to consume smaller portion sizes, because a drop in activity means a drop in caloric need," Sandon added. "Dads should also try not to fall into the trap of consuming what we call 'kid's foods' -- like chicken nuggets. These kinds of foods may be fast and easy, but they're not good for either the parent or the child, so they're best avoided."
She also urged new fathers to "find ways to be active with the new child."
Jogging strollers are a good option, Sandon said. "You tend to see them more with mothers than dads, but dads can use them, too," she said. "And kids should really be getting at least an hour a day of recreational physical activity. So dads should make sure to regularly take their kids out for some fresh air. It's a win-win for both parent and child."
SOURCES: Craig F. Garfield, M.D., associate professor, department of pediatrics and medical social sciences, Northwestern University Feinberg School of Medicine, Chicago; Lona Sandon, R.D., assistant professor of clinical nutrition, University of Texas Southwestern Medical Center at Dallas; July 21, 2015, American Journal of Men's Health
Copyright © 2015 HealthDay. All rights reserved.